National
Building Collapse in Darjeeling- 3 Deaths, 7 Rescued, 7 Missing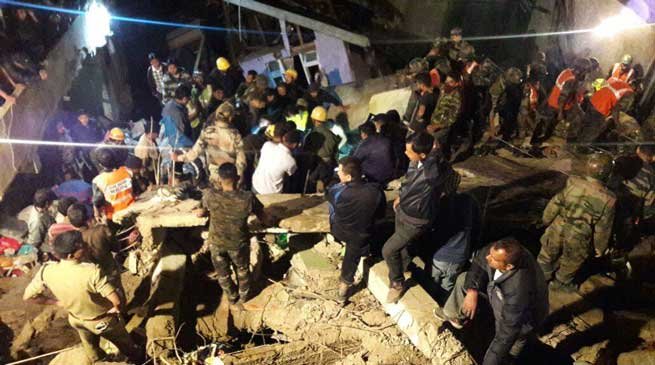 Darjeeling
 A Building Collapse in Darjeeling causing  3 Deaths, 7 Rescued, 7 Missing. Around 10:30 PM last night, people in Dr. Zakir Hussain Busty  below Lower Masjid, were jolted by a tremor. They assumed it was an earthquake. On coming out of their houses, they were left in a state of confusion and shock to see one of the buildings in their neighbourhood turned into rubble.
As the truth dawned on them, that a building had collapsed, local people rushed to rescue those who were trapped. The building owned by Mr. Ashok Chettri was said to be old, and the owner had been residing in Siliguri for quite some time now and had rented it to others. The building – a 4 storey one – housed 3 families.
Frantic efforts by locals ensured that three people, two women and an elderly men were rescued within 30 minutes of the collapse. However, they would have to dig in deep to rescue others.
As the night proceeded, Darjeeling MLA Mr. Amar Rai arrived on the scene and after seeing the extent of devastation he called Darjeeling DM and Army officials requesting rescue teams. Along with Firebrigade, Police and local civil defense volunteers the rescue efforts was mounted, resulting in safe recovery of four more individuals.
In about two hours Army rescue team also arrived, sadly due to the congestion of the road their heavy equipments could not be brought to the disaster site. As the army took charge hope ensued, but sadly they so far they have only been able to recover four dead bodies, all of the Pariyar family.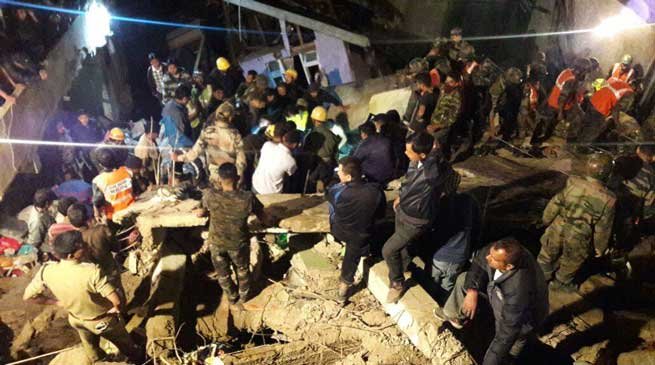 he rescue efforts are being undertaken with Army, Firebrigade, Police, Civil Defense, Municipal Engineers and local volunteers, and we hope that the rest of the people are rescued soon.
Please keep the missing in your prayers. Dead: Rajesh Pariyar, Anita Pariyar, Amrita Pariyar
Missing: Naseem Kashmiri, Allaudin, Zamila, Sabina Kashmira + two guests (name unknown at this point)
Rescued so far: Salam Saha, Ghulam Saha , Sabina Khatoon, Sabana Khatoon she is expecting too , Anjali 9yrs, Ifa 2 yrs, Faiz 7 years [ Courtesy- Sriju Bal Tamang for TheDC]