North East
BSF Seized Catlle Heads, Apprehended 2 Bangladeshi Nationals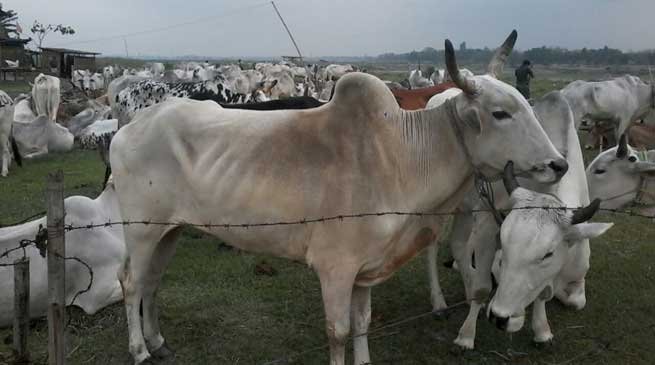 Dhubri
Troops of Border Security Force ( BSF ) deployed under Guwahati Frontier in Dhubri Distt, (Assam) and Cooch Behar Distt,(West Bengal)  have seized large numbers of cattle heads meant for smuggling to Bangladesh on the intervening night of 19th & 20th July 2016.
582 cattle heads, worth approximately Rs. 34,34,000/-, were seized from the Indo-Bangladesh border in Dhubri and Cooch Behar. The seized cattle were deposited with concerned Customs authorities for further disposal.  In the past 20 days BSF has been able to seize 3683 cattle heads having worth Rs. 2,25,59,700/- and apprehended 05 Indian and 02 BD criminals.
BSF troops are always alert to issue of trans-border crimes and illegal infiltration and are making all out efforts to prevent commission of illegal crimes.
On the Other hand the special patrolling party of BSF troops apprehended  two Bangladeshi national from different places of Garo Hills and Jantia hills, while he was infiltrating from Bangladesh into Indian territory. The apprehended Bangladeshis revealed that they have crossed the international border through unfenced riverine area.