Itanagar
Treat Me As A Friend Not Chief Minister- Says Pema Khandu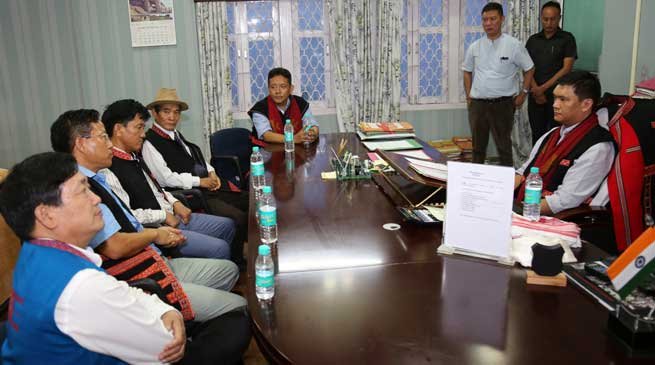 Itanagar
"I am willing to listen to all. Consider me as down to earth person and I have no ego. Don't think of me as a Chief Minister. Treat me as your own friend or younger brother,"…  Says  Arunachal Chief Minister Pema Khandu during a meeting with the community delegates from Adi Baane Kebang (ABK) here today led by its President Kangkir Jamoh
Mr Khandu has sought support of community based organizations in his government's effort to accelerate development in the state.  Khandu Expressed his government welcoming any positive suggestions.
Pointing out the serious gap in the current pace of development, the CM said that earlier under late Chief Minister Dorjee Khandu's rule, there was enough flow of money in the market despite Rs 2800 crore state budget. However, today even with the current budget of Rs 12000 crores, the state's economy has not improved, he observed.
Khandu pointed it to as "serious problem" and called for corrective measures to be taken up.
Signaling that the government is serious in its pursuit for development, the Chief Minister said that all responsibilities will be fixed with the ministers.
"Any non performing ministers will be dropped," he said adding that formation of cabinet will be completed within a week.
Also promising equal development all over the state, he announced that his government will work cutting across party lines.
"I will reach out to all legislators including the opposition BJP members, as I am willing to use them to get access to New Delhi," said CM Khandu.
"The bottom line is that Arunachal should prosper," he asserted.
Khandu also emphasized on development for hydro power, for which he urged the community bodies to play vital role on the ground in identifying the conflicting issues and for its early resolution.