North East
BSF help Poor and Needy people residing in Border areas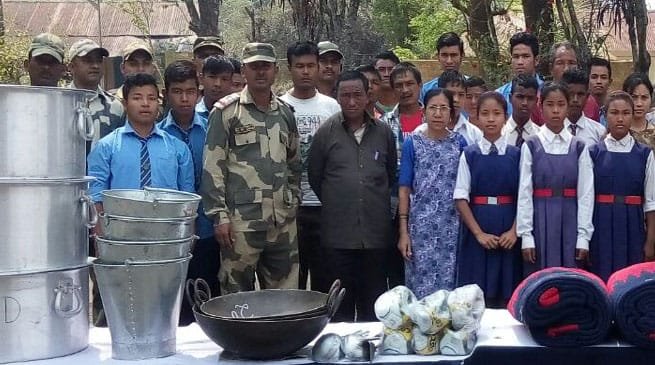 Shillong
BSF organized a series of civic action programme in remote villages of East Khasi Hills district  under Jowai Sector in Meghalaya.
The poor and needy people of villages Beltoli, Ryngku, Patha Ghat, Shella, Bholaganj, Kasinda and Phlangkaurah situated at border areas  were provided with various items including utensils, sports items, furniture etc.
A heartfelt presence of local Headmen and other respected persons of the locality made the programmes very successful. People of these villages praised the goodwill gesture by BSF done at these villages.
The BSF has been keeping regular touch with the bordering people to meet its endeavor to help the poor and needy people. BSF has organized several such programme at border recently.
BSF APPREHENDED ONE GNLA OGW
 On the other hand in a joint operation carried out by BSF and Meghalaya Police apprehended one Over Ground Worker (OGW) of GNLA from South West Khasi Hills district. He was identified as Nikman T Sangma @ Singbaat @ Dorenky
Nikman T Sangma joined GNLA as OGW in 2009 and worked for one year as OGW for GNLA with Chang Jang M Sangma a GNLA cadre who was killed in an encounter.
He was still active and working as OGW for GNLA. He has been visiting his in-laws in the village Chintusora in South West Khasi Hils district.
The apprehended GNLA OGW with seized items handed over to Police Out Post – Gumaghat for further legal action.