Itanagar
Arunachal: workshop on segregation of solid waste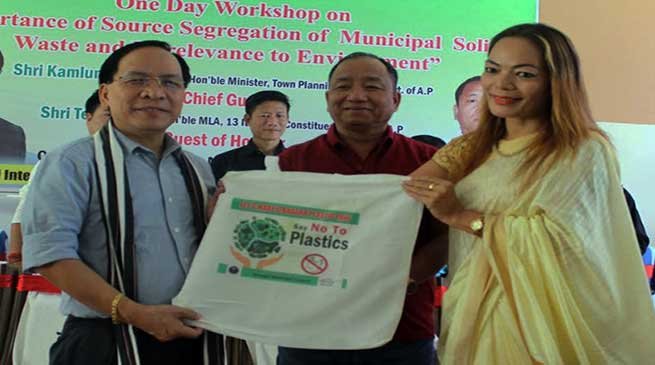 Itanagar Municipal Council organised  day long workshop on "importance of source segregation of municipal solid waste and its relevance to the environment".
---
Itanagar
Hundreds of people from different organization of capital complex and staff of the Itanagar Municipal Council (IMC) attended the one day workshop on the importance of source segregation of municipal solid waste and its relevance to the environment, organized by IMC, Itanagar at Waii hotel here on Wednesday.
Addressing the gathering, Arunachal Pradesh Urban Development, Town Planning, Urban Local Bodies and Government Estates Minister Kamlung Mossang said that, though people are aware of the Swachh Bharat Abhiyan (SBA) and the importance of clean and healthy surroundings, but they  are negligent to take up own responsibility to work on it.
"It is not only the duty of the concerned department to create healthy surroundings in the state but also the responsibility of the people too," he added.
He said that, every individual should start the move to keep clean surroundings by their own dwelling. "The religious organization, NGO and committee from the colony have the pivotal role to play in maintaining cleanliness in and around," he said while adding that, no one should feel mortified in doing it.
Mosaang also added that, no one from the other state will come for the cleanliness in the state. Thus, we have to stand ourselves to keep our state clean and healthy, which is not an impossible task to do so, he added.
He assured that, in days to come, his department will make sure that the cleanest district, cleanest sector and any individual dedication towards the cleanliness be provided with a letter of appreciation.
Mossang also requested the participants to make the best use of workshop. Learn to execute but not to forget," he said while adding that, any kind of workshop is always beneficial and one should not forget the learning's.
Local MLA, Techi Kaso also stressed on the peoples participation to keep the capital clean and healthy. "The motherly earth has given us abundant what we need and now it's our turn to payback by maintaining cleanliness around," he added.
He requested the chief minister Pema Khandu to bring a strict law to check the flow of plastic carry bags in every check post of the state. He also requested the vendors and the shopkeeper of the daily market to keep the market area clean.
Meanwhile, attending the workshop as resource person, Independent consultant for the Ministry of Housing and Urban Affairs (MoHUA), government of India, Rakesh Solanki spoke on solid waste management with the special focus on plastic waste.
He said that the plastic should not be mixed with the organic substances. Rather it should be brought to the recycling industry.
Later, the co-founder of Sampurn (e)arth, Mumbai, Ritvik Rao and member secretary Arunachal Pradesh State Pollution Control Board (APSPCB) S Rajtilak spoke on the importance and relevance of source segregation and provisions under various waste management rules in India respectively.