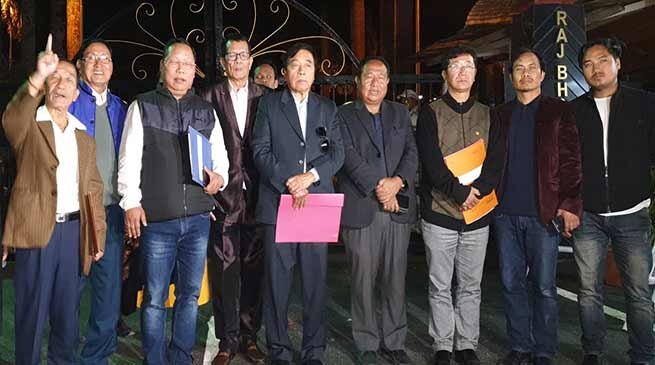 Delegation of Opposition parties approached  governor  and demanded dismissal of Pema Khandu government within three days.
---
Itanagar
The opposition parties today approached the governor Brig. Dr. B D Mishra (Retired) at Rajbhawan and submitted four point memorandum giving ultimatum of three days for resignation on or dismissal of Chief Minister Pema Khandu.
Addressing the media person after meeting the governor
APCC President Takam Sanjoy said that the government have created all the problems and we have placed our demand to the governor and  a time frame have been given. Chief Minister Pema Khandu should resign within three days. If he does not resign we have requests the governor to sack him for his inability to run the government. If he is not shake within three days, failing to shake we will start our democratic movement first by sitting peaceful dharna infront of Rajbhawan.
 former Chief Minister and Janata Dal (Secular) National General Secretary and Incharge North East Gegong Apang said that "The government cannot buy the sentiment of the people with twenty lakhs, people have now lost faith in the Pema Khandu government as they have provoked the indigenous tribal people by announcing the PRC as new year gift to the non APST people which is not at all expectable.  Pema Khandu should resign to defuse tension.
PPA President Kahfa Bengia said that the killing of three youth on PRC issue is not the first instance but there are several instances like murder of Late Toko Yame,  police firing on the protesters in Tawang, several unsolved murder case of state capital and other places we will not continue to let them do like that. We will not sit silence now,  peace cannot come like this when the people in the helm of affairs are sitting idle where large scale violence and several law and order problems are continued. Bengia said.
Watch Video 
[embedyt] https://www.youtube.com/watch?v=xvFdRPdtsVI[/embedyt]
Former minister and senior congress leader Padi Richo said that the attitude of the governor was very positive.
The four point charter of demand which include constitution of 'Commission of enquiry' on firing and killing of three innocent youth and five bullet injuries, headed by preferably a sitting judge of High Court or a retired chief justice of a High court.
Chief Secretary, Capital complex Deputy Commissioner (DC), Superintendent of Police (SP) are solely responsible for deteriorating law and order situation in state and capital complex, urged the governor to use his office for immediate suspension or termination of Chief Secretary, Deputy Commissioner and Superintended of Police within March 8.
The fourth point charter of demand  placed today was three innocent who lost their lives in the firing by police, Para military and army for the cause of PRC be declared as martyr and state honour be given to them posthumously.