Itanagar
Arunachal: APWWS urge Khandu "Make Marriage registration mandatory"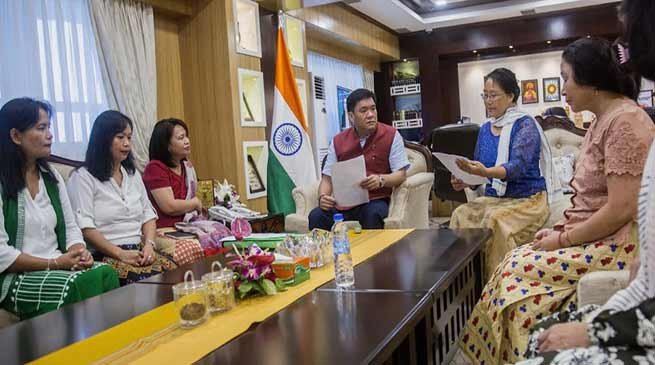 Itanagar
The Arunachal Pradesh Women's Welfare Society (APWWS) headed by its President Dipti Bengia Tadar called on Chief Minister Pema Khandu at his offices here this morning and discussed various issues confronting the society related directly or indirectly to the women of the state.
Acknowledging the role and influence of the womenfolk in welfare and development of a society, Khandu assured his government's full cooperation and support to resolve the issues raised by the Association besides lending a helping in its endeavours.
He appreciated the APWWS for its constructive suggestions submitted during the pre-budget consultative meeting held yesterday and underscored the Association's concern on the growing menace of drug addiction, especially amongst the youth.
"I fully endorse your concern on drug addiction and the need for a concerted effort in curbing the menace as well as de-addiction and rehabilitation of our misguided youths. While the government is duty bound to create a drug-free society the role of womenfolk is paramount in this crusade, Khandu pointed and hoped the Association would lead from the front.
To the submission of the APWWS for an in-depth Advocacy, Awareness and Research to tackle drug as well as alcohol addiction in the society, Khandu assured to keep provisions for it in the forthcoming budget.
Khandu also acknowledged the need to make marriage registration mandatory as urged by the APWWS for security of not only the wives but also of husbands when it comes to legal issues.
The women's body also requested the Chief Minister to provide all basic and required facilities in the lone mental hospital of the state located near Doimukh. It suggested that if feasible any reputed NGO with track record can be authorised to run the hospital to cater to the needs of the patients, who require round the clock and special treatment.
APWWS also raised concerns over discreet gambling dens across the state, which it claimed, was causing disharmony in the society and destroying families. Besides drawing attention of the Chief Minister towards various women related issues, it also questioned the availability of the online game PUBG. It claimed addiction to the online game has become a major concern especially for school-going kids.
The APWWS President was accompanied by five other members of the association.