Itanagar
Arunachal: 3 Arrested for Arson in front of BJP MP Tapir Gao's Residence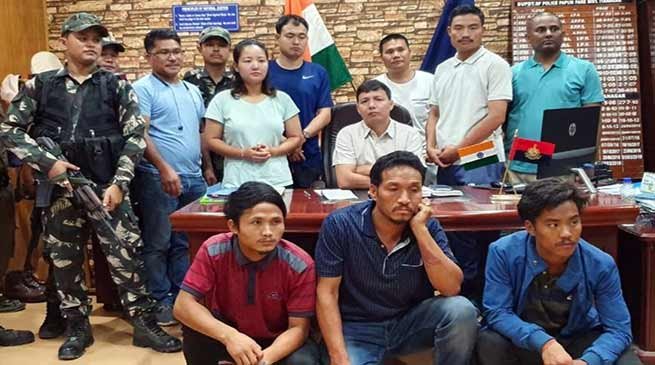 The capital police arrested three persons in connection with arson incident in front of BJP MP Tapir Gao's residence  at Niti Vihar in Itanagar.
---
Itanagar
With the arrest of three persons, the Capital police has  cracked down the case related to setting ablaze a vehicle and killing of a dog in front of BJP state president and MP Tapir Gao's residence here on Friday.
The driver of the another vehicle on which the accused fled away after committing the crime was also caught.
According to SP Capital Complex Tumme Amo, three persons including mastermind and the main accused of the incident Tongam Jomoh were  arrested from different locations.
Jomoh was  apprehended from Kasikata Bagan village under Bihpuria police station in Assam on Sunday.  second one Debo Tayem, son-in-law of Jomoh and third accused Gayam Pao arrested from Naharlagun and Pappu Nalla on Saturday.
"From the very first day we got one number of the suspect, that number was already in circulation  in a letter written by the main accused earlier. So, we kept under tracking and also got the registration number of the white WagonR which was burnt from that it was confirmed that car also belong to the main suspect Tongam Jomoh ,'' the SP told reporters here.
Watch Video 
He also narrated how through Call Detail Record (CDR) analysis and tower locations gave breakthrough in the case, we come through various sources which helped to reached and able to nab them.
"We have arrested three of them and also the driver. We are not very clear on their intentions, but hope that further interrogation  will clear the picture. As of now , there is no political angle," the SP said.
Meanwhile an FIR was registered in connection with the incident  in Itanagar PS as  Case No-133/19 u/s-under various sections of Indian Penal Code (IPC),.
As of now we have seized the red colour KUV100 AR02/9312 vehicle, two nos of mobile handset from Debo Tayum, one mobile from Gayam Pao  and two mobile handset and 3 sim card and a dau from main accused Tongam Jomoh, SP informed.
The accused use petrol to ablaze the WagonR vehicle in front of Tapir Gao resident, The operations spread over 4 districts of Assam & within Capital Complex by Capital Police has been closed today.
Since the Case under investigation and more details would be available after through investigation of the case. Amo added.