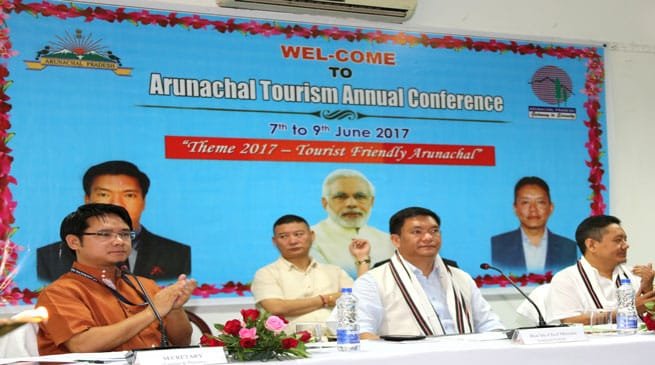 Itanagar
Chief Minister Pema Khandu today declared open the 'Arunachal Tourism Annual Conference', organised by the state tourism department with the theme 'Tourist friendly Arunachal Pradesh'.
Nodal police officers, tourism officers, tour operators, hoteliers and other stakeholders are participating in the 3-day annual conference. Also reputed resource person from the field of tourism are taking part in the discussion to facilitate as panelists.
Following the declaration, the Chief Minister participated in the lighting of lamp and launched a book "Mohomoyee Arunachal" written by a prominent Assamese writer, Soumyadeep Dutta.
Addressing the audience, the Chief Minister said that Arunachal has lot many things to offer in terms of tourism, but due to lack of proper policy – the tourism sector couldn't move ahead as per the state's potential.
He requested the tourism department to depute expert consultants to prepare a road-map, which would serve as a guide for the government to work.
"Without aggressive campaign – tourism growth cannot be achieved," said the Chief Minister and requested the department to carry out tourism campaign in aggressive mode.
He assured the department that a good amount of fund has been placed for the tourism campaign so that Arunachal is known nationally and internationally as the best tourist destination.
He also requested the department to focus on proper planning so that undesired outcomes can be avoided pointing out on many unused and waste tourism infrastructures that lay unclaimed across the state.
The Chief Minister encouraged the participants to take active part in the discussion with their feedback and experiences on the ground. He also encouraged them to seek for many important tourism related schemes launched by the state government.
Earlier in his keynote address, Tourism Parliamentary Secretary, Pasang Dorjee Sona said that state cannot wait for infrastructure when the state has so much to offer.
"Promote the state in right perspective; when visibility is gained, tourists will start to flow," he asserted and requested the media not to blow negative news out of proportion that may deter tourist inflow.
Tourism Secretary, Dr Joram Beda delivered the welcome address and spoke on achievements made by the tourism department in the last few years. He highlighted on the success of tourism promotion campaign being launched across the nation and schemes being implemented in the state that are proving helpful for the local tourism entrepreneurs.