National
Former chief election commissioner TN Seshan passes away
Seshan, a native of Kerala's Palakkad district, was India's chief election commissioner from 1990 to 1996.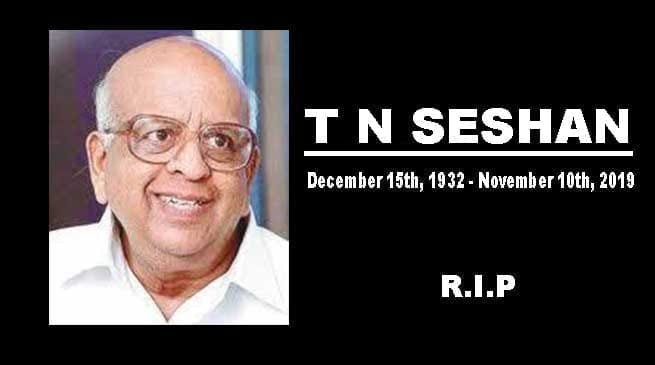 Chennai
Former Chief Election Commissioner TN eshan, who brings reforms in the country's electoral process, died of cardiac arrest on November 10 in Chennai. He was 86.
Seshan, a native of Kerala's Palakkad district, was India's chief election commissioner from 1990 to 1996. He is best remembered as the man who cleaned up elections in India. He reformed elections by largely ending its malpractices in the country and redefined the status and visibility of the Election Commission of India.
Seshan, a retired 1955 batch Indian Administrative Service officer of the Tamil Nadu cadre, had received the prestigious Ramon Magsaysay Award, considered Asia's Nobel, for his initiatives in making the electoral process more transparent.
He was born on December 15, 1932, in Thirunellai, Palakkad district, Kerala. He completed his schooling from Basel Evangelical Mission Higher Secondary School and intermediate from Government Victoria College, Palakkad.
India's railway man E Sreedharan was his classmates at school and college in Palakkad. Both of them were selected for Engineering in Kakinada (Jawaharlal Nehru Technological University). Sreedharan decided to pursue it, while Seshan decided to join Madras Christian College.
Seshan graduated in physics from the Madras Christian College and worked for three years as demonstrator in the same institution. After passing the Indian Administrative Service in 1955, he went to study at Harvard University on Edward S. Mason Fellowship where he earned a master's degree in public administration.
On returning he served as secretary of several departments in Tamil Nadu and at the center during his decades-long career.
Seshan's name became synonymous with transparency and efficiency when he managed to stamp his authority on the country's electoral system by conducting the cleanest elections in living memory. Nobody dared to violate the law.
Poll changes ushered in by him would often pit the political class and their media cronies not just against each other, but also against him, the election watchdog, getting labeled, in turn as – "Al-Seshan (Alsatian)" so much so, that electoral 'battles' would be dubbed by them as: Seshan versus Nation.
Before he was appointed as India's chief election official, he was the cabinet secretary, the senior most position in the civil services.
In 1997, Seshan had unsuccessfully contested the presidential election against K R Narayanan, another native of Kerala.