Itanagar
EAC Inspects Papu Nallah and Pagatara Roads, Stop illegal earth cutting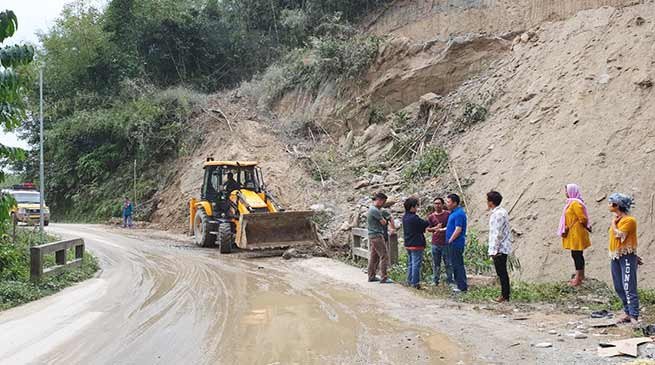 EAC inspected road condition between Papu Nallah and Pagatara on Itanagar-Jully road, illegal earth cutting was stopped and legal action have been initiated.
---
Naharlagun
Naharlaugn EAC Rinchin Leta today carried out inspection of road from Papu Nallah to Pagatara on Naharlagun-Itanagar via Jully road alongwith PWD official and locals in view of the recent direction of the Capital DC in connection with closure of the NH-415 between Itanagar and Naharlagun and immediate repairing of the road near Pagatara.
Rinchin inform that it is necessary that we the administration may be able to give maximum welfare to the denizens but denizens on the other hand should reciprocate and understand the nature of urgency of the public utility and infrastructure which need to be upkeep for sustainability and durability as well as proper use.
He said that Capital DC have issued direction for inspection of the road between Papu Nallah and Paga tara and I will submit report for further necessary action.
An illegal earth cutting was stopped and legal action have been initiated by the administration, he informed.
He said DC wanted that the huge potholes created on the road need to be filled up and PWD have been directed  to start the work henceforth. The necessary repairing and maintenance work have already been started at Pagatara sinking zone and hope that it is completed within a week. He said.
With regard to regulation of traffic on the stretch of road, Rinchin said that traffic police and ITW have been deployed at Jully try junction of Papu Nallah and as and when feel necessary the traffic diversion decision will be taken up by the capital district administration which would be regulated by capital police and others but commuters and vehicle owners need to follow traffic rule. He added.