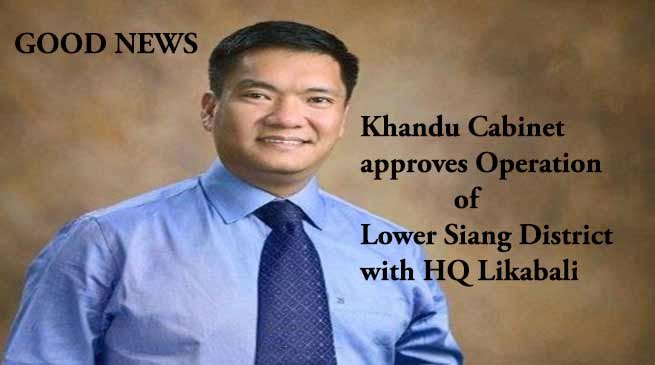 Itanagar
Arunachal Pradesh State Cabinet headed by Chief Minister Pema Khandu took historic decisions today. The Council of Ministers approved operationalisation of the long pending Lower Siang District.  Likabali has been approved as the temporary headquarter of the newly created district and DC and SP  to be posted immediately.
The new district would include Assembly Segments of Likabali, Basar and Nari Koyu.
The operationalisation of the Lower Siang District  was approved on the condition that status quo shall be maintained in respect of Kora Circle till an amicable solution is arrived after detailed consultation with stakeholders. Further, the cabinet approved exclusion of Depi, Depimoli and Detak from Lower Siang district.
 Council of Ministers took note of the letter written by Chief Minister to Union Minister Home Affairs regarding the vexed issue of granting citizenship to Chakma & Hajong Refugees and the entire cabinet unanimously endorsed the firm stand taken by the Chief Minister.
The Cabinet reaffirmed that the rights of indigenous people of the state will not be compromised at any cost.  These rights are inviolable and are enshrined in the Constitution of India and protected by various laws enacted from time to time.
In another historic decision, the Cabinet approved the Bill for creation of new Kamle District to be tabled in the ensuing Assembly Session scheduled in October.