North East
BSF Seized Methamphetamine Tablets, Heroin, Cattle Heads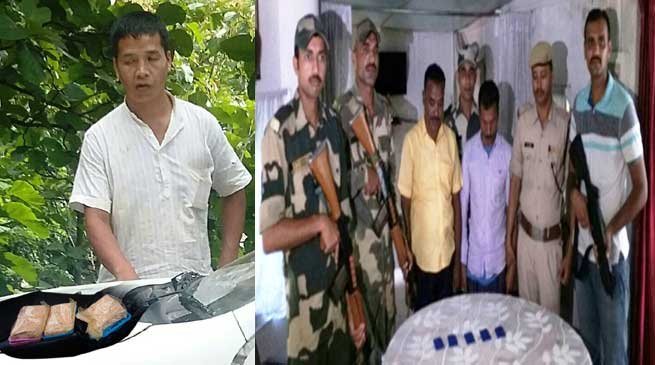 Silchar  –  1000 Nos Methmphetamine tablets seized 
BSF Seized Methamphetamine Tablets, Heroin, Catlle Heads and apprehended three Indian nationals in various different operations  conducted at Silchar ,  Mizoram and Meghalaya .
Acting on tipoff provided by BSF Intelligence wing on Tursday, a special operation was conducted by the team of  SHQ BSF Silchar in general area of Bhanga  Bazar (Karimganj) in which two Indian National namely Abdul Hannan Laskar Md Abdul Sattar were apprehended along with 1000 Nos Methamphetamine tablets (marked 1/88) value Rs 2,50,000/-
Aizwal- 46.11 gms Heroin seized 
In a another operation on the same day a joint Operation was conducted in area of Edentharbelow company veng, Aizawl (Mizoram), by BSF troops of  SHQ BSF Aizawl alongwith Spl Narcotic Cell Aizawl in which, one Indian national namely was apprehended along with 46.11 gms Heroin value Rs 1,35,000/- in international market.
BSF spokesperson, Shri Satish Budakoti, Deputy Inspector General, Frontier Headquarter BSF Mizoram & Cachar informed that the seized drugs items were brought from Myanmar for local consumption. The apprehended persons along with seized items were handed over to concerned police station for further legal action.
Jaintia Hills – BSF Siezed Cattle Heads
The BSF once again foiled the attempt of cattle smugglers to smuggle cattle to Bangladesh in the area of Muktapur, West Jaintia Hills. A Special ambush party of BSF observed some suspicious movement and rushed at the spot and seized 15 nos of cattle while being smuggled to Bangladesh. However the cattle smugglers managed to escape from the spot taking advantage of bushy area and darkness.
Khasi Hills- seized 46 bottles of liquor
 In an another operation the BSF troops deployed at Debram, South Garo Hills district and at Bholaganj, East Khasi Hills of Meghalaya in a special drive, seized 46 bottles of liquor while being smuggled out to Bangladesh from India. The Border Security Force has intensified its operations on the Indo-Bangladesh Border to prevent and curb trans-border crimes.