Arunachal
Arunachal: Khandu announces Tali-Pipsorang Road will be motorable by I-Day 2024
"The Tricolour will be unfurled by local legislator Jikke Tako at Pipsorang on Independence Day next year and he will come by road," he declared.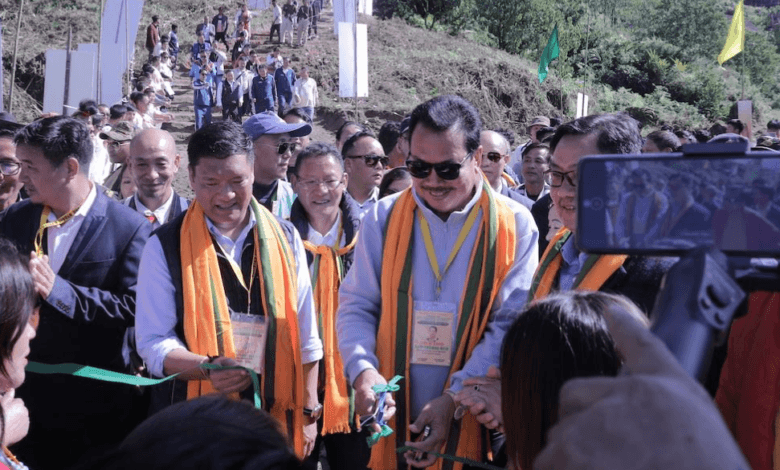 PIPSORANG- Chief Minister Pema Khandu today announced that the road to remote Pipsorang from Tali in Kra Daadi district will become motorable by Independence Day next year.
"The Tricolour will be unfurled by local legislator Jikke Tako at Pipsorang on Independence Day next year and he will come by road," he declared.
Also Read- Tali MLA Jikke Tako traveling in JCB, photos go Viral
It may be noted that out of the 60 assembly constituencies in Arunachal Pradesh, Tali was the only one unconnected by road. Khandu had promised in 2017 that his next visit to Tali would be by road and he fulfilled it this year on February 27 when he rode to Tali and joined the Nyokum celebrations there. Pipsorang, an administrative unit of Tali constituency, however still remains unconnected. A 55 km road from Tali to Pipsorang is under construction.
Today's visit to Pipsorang by chopper along with Union Minister for Earth Sciences Kiren Rijiju, Deputy Chief Minister Chowna Mein, Rajya Sabha MP Nabam Rebia and Chambang legislator Balo Raja is the maiden high profile visit to the area.
Addressing the villagers, Khandu appreciated local legislator Jikke Tako, a first timer, for his sincere efforts in bringing development to his remote constituency.
"I have seen him (Tako) always talking passionately about his constituency and what the government must do to bring in succour to the villagers confined to the region due to lack of road connectivity. His sincere efforts are now bearing fruits. Tali today is connected with an all-weather road, there is regular electricity and water supply. And the road to Pipsorang is progressing satisfactorily," he said.
Also Read- The untold stories of Siang River
Khandu especially praised Tako's call of 'Back to Tali' to those who migrated from Tali and settled down at places like the state capital and district headquarters. With proper road connectivity and basic facilities including health, education and administration at door-step, he observed that people will come back for sure.
"The region is beaming with resources. Once all modern amenities and facilities are available here, Tali can develop shoulder to shoulder with other constituencies," he said.
To a request made by Tako for road connectivity with Limeking in Upper Subansiri, Khandu assured that the state government will look into it positively and discuss it in detail with concerned officials on priority.
Reminding that construction of roads need central support, he asserted that Rijiju, a cabinet minister in the central government, is always ready to coordinate for developmental and welfare projects in the state.
Khandu expressed gratitude to Prime Minister Narendra Modi under whose regime since 2014, Arunachal Pradesh has witnessed a developmental phase never seen before in 75 years.
Also Read- I have faith in people of Tali constituency-Jikke Tako
"Think about it. 75 years had passed since we attained Independence but a place like Tali had no road connectivity. Only after the BJP came to power, the dream of a road to Tali could be completed in 2023," he said.
Inaugurating the upgraded Pipsorang SDO headquarters from an administrative circle with headquarters at Kolang, Khandu announced Rs 30 crores for development of the requisite infrastructure. He also assured that installation of 4G towers in the region will be fast-tracked.
Meanwhile, the chief minister also launched creation of Paye circle with headquarters at Rikmun Riangjo and Nyorig circle with headquarters at Roing. Also formally started Piped Water Scheme under Jaljeevan Mission at Lengoing Koleng (Pipsorang headquarters) and adjoining villages.