Itanagar
Arunachal: Conclave on Perspective Planning for Resurgent Agriculture and Allied Sectors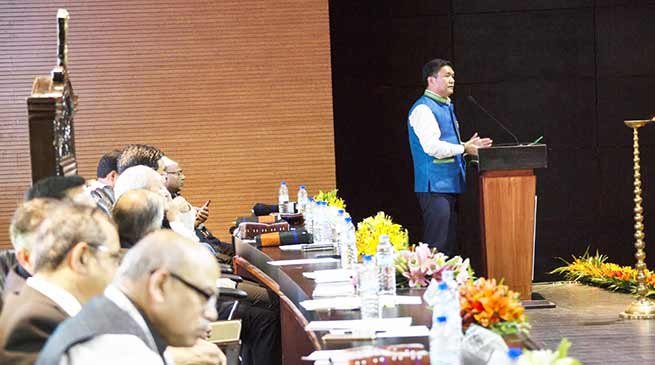 Government's emphasis on agriculture and allied sectors for employment generation as well as self-sustainability- Pema Khandu, CM, Arunachal Pradesh 
---
Itanagar
Endowed with vast and diverse geographical landscape suitable for various cash-rich agri-horti produces in Arunachal Pradesh, Chief Minister Pema Khandu reiterated his government's emphasis on agriculture and allied sectors for employment generation as well as self-sustainability.
Speaking at the inaugural function of the two-day State Conclave on Perspective Planning for Resurgent Agriculture and Allied Sectors in the state here at State Assembly Auditorium, Khandu expressed hope that the sector with huge potentials would witness a sea of development in the days to come from the two-day brainstorming amongst experts, officials and progressive farmers from across the state.
Organised by the state department of Agriculture in partnership with NABARD, the conclave would focus on four broad themes – enabling environment for development of agriculture and allied sector, promotion of sustainable use of bamboo, sericulture, apiculture, value chain and agri-export, promotion of horticulture and spices sector and promotion of animal husbandry and fisheries sectors.
Taking advantage of the presence of Secretaries from the union ministries of Agriculture, DoNER, Tourism and other important officials from the Govt of India, Khandu asserted that the North East should not be taken up as a single entity while rolling out programs, policies and schemes.
"All the North Eastern states – while being looked upon as one single entity from the mainland perspective – are quite distinct and different from each other. Each state has its own potentials and challenges. Even within a state like ours, each region, district and community have their own potentials and challenges. I would therefore request the Govt of India officials to approve and sanction state specific programs and schemes for the states to benefit in real terms," he said.
Khandu informed that the state government too has resorted to decentralize the planning process and invite district, block and village specific schemes from the deputy commissioners while creating awareness on central and state government flagship programs at the block levels.
He said under the 'Sankalp Se Siddhi Tak' program, each district has been allotted to one minister and a secretary-level officer, who would take up the programs and policies of the government with the district level officers, who would further take these up with block and village level officials.
"This would facilitate the government to reach out to the people at the lowest level of administration," Khandu pointed.
Lauding the four themes of the conclave, the Chief Minister called for focus on bamboo production and its use for commercial purposes. He said bamboo, which is abundant in the state, has so many commercial uses that people in the state aren't aware of and suggested brainstorming on it to find viable methods for its processing for sustainable economy of the farmers.
Expressing concern over hesitation by banks to offer loans to farmers owing to poor repayment, Khandu acknowledged the suggestion put forward for intervention of the state government by evolving a system to guarantee repayment of loans. He said the government would prepare a module so as to enable farmers repay their loans as well as guarantee repayment to banks as a confidence building measure. He asked the Chief Secretary to work on it immediately.
He further informed that the state government would soon tie up with the University of California, Berkeley, and develop 100 Smart Villages across the state as a pilot project. He suggested dovetailing of the results of the conclave with the project so that villagers get the optimal benefit for a sustainable economy.
The conclave was inaugurated by Brig (Rtd) Dr B D Mishra, Governor of Arunachal Pradesh, as the Chief Guest.
Present during the inaugural session were Speaker of the Arunachal Legislative Assembly T N Thongdok, Deputy Speaker Tumke Bagra, Deputy Chief Minister Chowna Mein, Agriculture Minister Wangki Lowang, Animal Husbandry Minister Dr Mahesh Chai, RD Minister Alo Libang, Education Minister Honchun Ngandam, Member 15th Finance Commission Dr Ashok K Lahiri, union Agriculture Secretary S K Pattanayak, DoNER Secretary Naveen Varma, Chairman GST Council Ajay Bhushan Pandey, union Tourism Secretary Rashmi Varma, NABARD Chairman Dr Harsh Kumar Bhanwala, state Chief Secretary Satya Gopal and others.
The conclave is also being attended by ICAR, Spice Board of India and about 60 experts from agriculture and allied sectors.