Itanagar
Team One Arunachal in collaboration with Arunachal Super Dancer conducted a Traffic Awareness campaign at Itanagar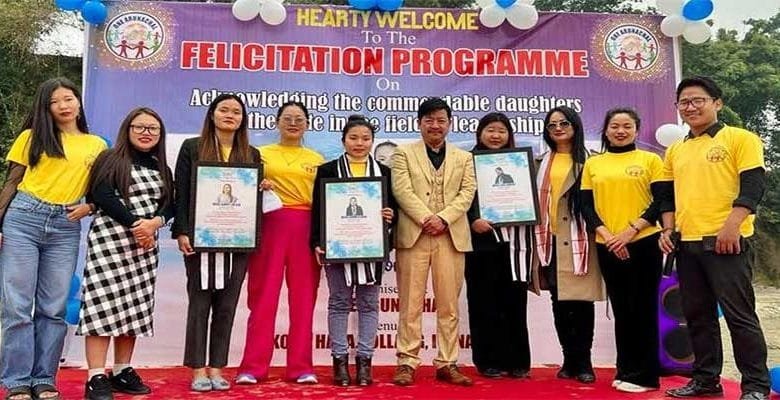 ITANAGAR-  By concerning on massive road accidents and traffic violations in the state of Arunachal Pradesh.  The Team One Arunachal headed by Chief promoter Joram Tat in collaboration with Arunachal Super Dancer conducted a Traffic Awareness campaign at Itanagar on 12th February 2023 and distributed helmets to the bike riders in the presence of Dy. SP Traffic, Paul Jerang.
Viral Video: woman walking upside-down inside a swimming pool
On the same day to encourage the women empowerment, Team One Arunachal has conducted a felicitation program where the  3 ladies namely Miss Chimla Gadi, General Secretary of  Basar Model College, Miss Kipi  Lollen General secretary of Donyi Polo Kamki College and Miss Lusi Jamoh, General Secretary  of JN College Pasighat were felicitated for  their excellent leadership in the students community.
Speaking on the occasion Joram Tat, highlighted on all the safety measurements while driving and strongly appealed to the public especially bike riders to follow the traffic rules and wear helmet while driving. While encouraging the women empowerment, he said that women belong in all places where decisions are being made.
Viral Video: Fitness model Does a Cartwheel While Wearing a Skirt & High Heels
It shouldn't be that women are the exception as the role of women is very important in the society. Joram Tat thanks SP Capital Shri Jimmy Chiram IPS and traffic police for their kind support during the Traffic Awareness campaign program which was grand successes.
These program were Voluntarily joined and supported by international Fashion Designer Miss Yana Ngoba, Team Arunachal little singing stars and Team Miss Capital.