North East
IWAI initiates Slipway Project and Ro-Ro Ferry Service in NW-2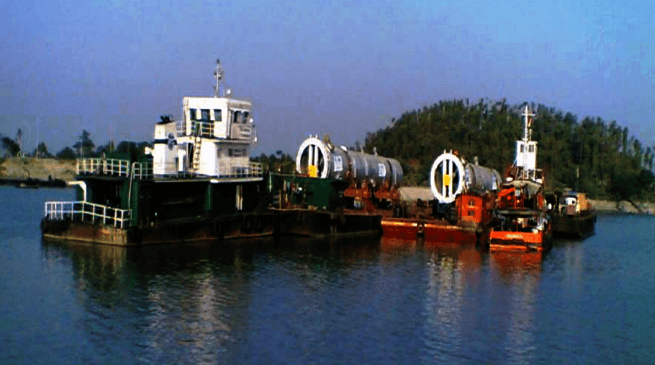 Guwahati
IWAI initiates Slipway Project and Ro-Ro Ferry Service in NW-2 of Assam. The Inland Waterways Authority of India (IWAI) has initiated action for two major projects on the National Waterway No2,  which is the navigable channel of river Brahmaputra between Bangladesh Border and Sadiya (891 kms.) The projects include Development of a ship repair facility (Slipway Project) at Pandu, at a cost of Rs 50.76 crore and  Ro-Ro ferry service between Dhubri & Hatsingimari from 27th February, 2016. 
Slipway Project
The slipway project has already commenced on a plot of 3.37 acres of land obtained from the State Government of Assam on 20 years lease and will be completed by December, 2018. The ship repair facility will be capable of handling vessels up to 60 meters in length and 3 vessels can be repaired simultaneously. Till date, there is no underwater ship repair facility anywhere in North East region and all vessels requiring underwater repair have to travel to Kolkata. The facility will be beneficial to IWAI, Inland Water Transport, Govt. of Assam, BSF and the Indian Army and to all other private agencies engaged in Inland Water Transport operation. 
Ro-Ro ferry service
The Ro-Ro facility being introduced between Dhubri and Hatsingimari will facilitate movement of loaded/unloaded trucks between North bank and South bank of the river and will cut the travel distance from 220 KM to 30 KM. This will help the transport industry in saving considerable amount of fuel and time. While the facility is presently being commenced by deploying 2 vessels of IWT, Govt. of Assam operating through temporary Ro-Ro Jetties, a modern R.C.C. Ro-Ro Jetty construction is already underway in Dhubri at a cost of Rs. 46.69 Crore. Simultaneous action is also initiated for stabilization of the channel including the river banks and for construction of 2. modern Ro-Ro vessels with state of the art navigation equipments including specialized infrastructure for movement of heavily loaded trucks, cargo and passengers at a cost of Rs.24 Crore. There is also a future plan to introduce such facility through other nodal points on NW-2. 
The two facilities will pave the way for development of Inland Water Transport sector in the North Eastern region and encourage the Inland Water Transport users to step into a new era of safe, economic and environment friendly mode of transportation.