North East
Irom Sharmila Released from judicial Custody, resumed her Hunger Strike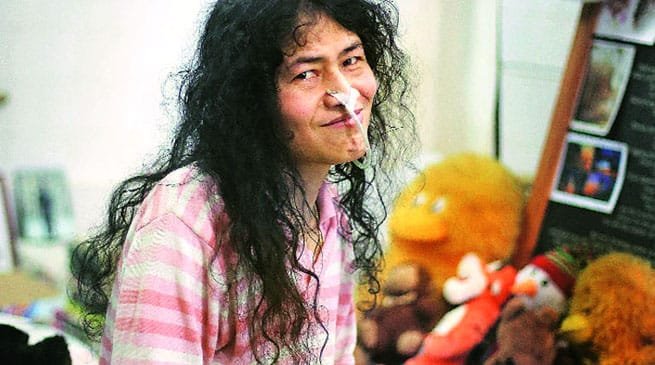 Imphal  
Manipur's Human Rights Activist Irom Chanu Sharmila, who has been charged with the offence of attempt to commit suicide by fasting, was on Monday released from judicial custody.
Sharmila has been charged under Section 309 of the IPC (attempt to commit suicide) after she staged an indefinite hunger strike demanding repeal of the Armed Forces (Special Powers) Act.
The activist, who has been on a 15-year-long hunger strike to press for the abrogation of the AFSPA, had earlier said she would continue her fast unto death, and resume her hunger strike after a magistrate court ordered her release from judicial custody on Monday.
Sharmila was earlier lodged in a security ward of Jawaharlal Nehru Institute of Medical Sciences here where she was guarded round-the-clock by jail, police and hospital staff.
The government is spending about Rs.70, 000 a month on her medication and feeding her through the nose.
Referred to as the Iron Lady of Manipur, Sharmila continued her often interrupted hunger strike at Saheed Minar, accompanied by women activists of 'Sharmila Kanba Lup' (Save Sharmila Committee).
The 43-year-old began her non-violent protest in November 2000 after 10 people were killed by troops of the Assam Rifles near a bus stop at Malom, in the outskirt of Imphal.
The Afspa 1958, which covers large parts of northeastern India and Kashmir, gives security forces sweeping powers to search and shoot on sight, and is seen by critics as a cover for human rights abuses.
Speaking to media at the court complex in Imphal, Sharmila said, "Now I will continue my agitation at Saheed Minar till my goal is achieved. I still have the confidence that truth will prevail one day."
On August 19 2014, a Sessions court in Imphal had ordered her release, dismissing the prosecution's charge that she was attempting to commit suicide. But Sharmila was re-arrested few days later on the grounds of securing her life.