National
BSP members forced two adjournments of the Rajya Sabha till tomorrow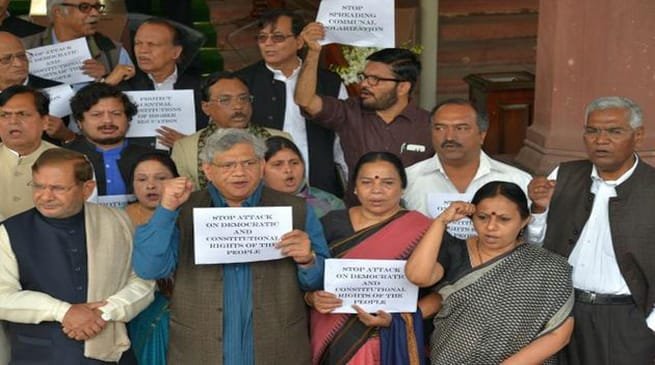 New Delhi
Bahujan Samaj Party (BSP) members on Wednesday forced two adjournments of the Rajya Sabha, creating an uproar over the suicide of Dalit student Rohith Vemula at the Hyderabad Central University, and demanding the resignation of Union Ministers alleging they were linked with the incident.
Stating that the issue was a matter of grave concern, the BSP members raised slogans that the "anti-Dalit, anti-Ambedkar" government will not be allowed to run.
The BSP chief even dubbed the incident an "insult to 25 crore Dalits" in the country. "HRD Minister is responsible for Rohit Vemula death," she said.
Irked over Mayawati's remark, Irani said the opposition was using a "dead child" (Rohith) as "a political tool and strategy" and asked the opposition to start discussion on the issue "right now".
The row in the Upper House began virtually from the start. Even though a discussion on the issue was listed for today, Mayawati (BSP) wanted a response from the government to her demand for resignation of the Union Ministers allegedly linked to the suicide.
"Since the time, BJP came to power at the Centre, nefarious means are being used to impose RSS ideology," she said, adding that prestigious institutions like Hyderabad University, Aligarh Muslim University, Jamia Milia and Jawaharlal Nehru University (JNU) were being interfered with.
Suicide by Rohith is not the first case and many Dalit students have committed suicide in the past including when Congress-led UPA was in power at the Centre, she claimed.
Minister of State for Parliamentary Affairs Mukhtar Abbas Naqvi said if the House agreed, a debate on the issue could be taken up immediately. Deputy Chairman of Rajya Sabha P J Kurien too agreed that a discussion can be taken up immediately if the House agrees.
But Mayawati insisted on a response to her demands first, even as Naqvi said, "We are not running away from debate."
Kurien said the subject raised by Mayawati was already in the list of business and could be taken up now and the government will reply to it. But BSP members remained unrelenting.
After the brief adjournment when the House reassembled, Mayawati again wanted to know from the government if there would be a Dalit member in the inquiry committee. To this, Deputy Chairman Kurien said "don't take the House to ransom".
As BSP members trooped in to the Well, Naqvi said a discussion would take place on the issue and the government cannot reply to questions in bits and pieces.