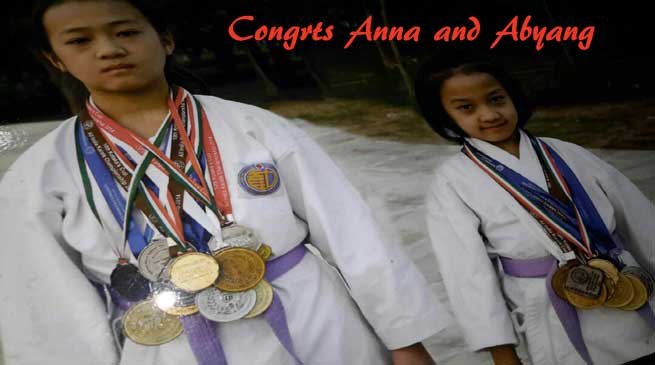 New Delhi
Two Sister Anna Hibu and Abyang Hibu belongs from Arunachal  awarded BLACK BELT in Karate and  Delhi Govt honoured them with Sports Scholarship. Anna and Abyang now Role model for other NE girls.
World Karate Judge – Rensei Paramjeet Singh, Black Belt 7 Dan, who flew down to Delhi for the belt examination, awarded BLACK BELT to gutsy and fiery fighters sisters – Anna Hibu and Abyang Hibu with an oath ceremony swearing in the name of God, while kneeling down in front of Rensei Paramjeet Singh that, they would not misuse these deadly arts of karate fighting with weak and helpess, nor misuse it for selfish and show off.
After 5 years of discipline and tough training under coach Asian Karate Judge Sensei Vishal Jaiswal, Black Belt 4 Dan, at Sri fort Commonwealth Sports Stadium, South Delhi, Anna Hibu and Abyang Hibu finally passed the grilling Black Belt examination in the age of 10 and 13 on Monday, they started gruelling karate training at the age of 5 and 7 years. They had sacrificed their time and had even injuries several times.
Delhi Govt Sport Director Asha Agarawal said while confirming Delhi Govt Sports Scholarship for these two HIBU's sisters …. " hope these two NE sisters will inspire other girls to take up these martial training for self defence and for sports career…" she congratulated them profusely.
Sister Janet Principal of CJM school, Delhi,  where they are studying announced a special felicitation programme for them in the school and will be honoured as sports girls of the year.
Hibu"s sisters have rich haul of medals Anna has won 24 medals, Abyang has 23 medals including medals in national karate, different karate tournaments, represented Delhi state in national and international tournaments.
I strongly believe, it's paramount necessity in today's world that every girls should be taught compulsory martial arts, so that no road romeos or husbands dare to tease them…. we all can make it happen, start with your daughters and sisters of your home. That would be the greatest gift you can give them for life, said, Robin Hibu, the father of Anna and Abyang.
Further Robin said " I Hope that my two tiny daughters will ignite perception of empowerment of daughters by parents for their real world preparation of battle of life for girls".