Itanagar
SDMA Meetings Held after Four Years, Takes Vital Decisions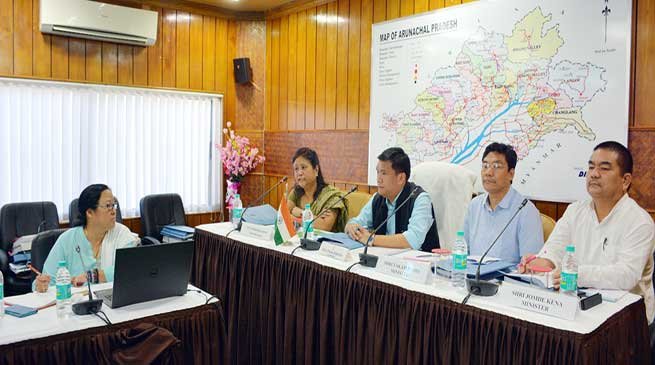 Itanagar
The apex body meeting of Disaster Management, the State Disaster Management Authority (SDMA) of the state was held today after a gap of four years in the Chief Minister's Office today.
The SDMA meeting presided over by Chief Minister Pema Khandu took vital decisions concerning Disaster Management in the state.  The meeting has approved State Disaster Management Plan (SDMP) and District Disaster Management Plan (DDMP) w.e.f 2011 and annual updation till 2016.  It has also approved the much needed Arunachal Pradesh Disaster Management Policy – 2016 and granted ex-post facto approval of expenditure made under SDRF & NDRF as per items and norms of expenditure.
The SDMA also approved for the continuation of the contractual employees in Multi-Tasking and Computer Assistant in the department.
The SDMA resolved to bring changes in the SDRF & NDRF norms and decided to pursue the central govt to bring the necessary amendments as the state is situated in a geographically fragile location.
Considering the man power shortage in the department, State Disaster Management apex body also resolved to increase the human resource and to facilitate the department with additional equipments and vehicles after consultation with the finance department.
As the houses are haphazardly built in the state without following any byelaws and in vulnerable areas, it was also decided to implement building bye-laws through out the state and to make it mandatory to adopt Disaster Resilient approach in administrative and developmental activities.
The SDMA also resolved to seek one time Special Package from the centre to strengthened the State Emergency Operation Centre and the District Emergency Operation Centre which lacks infrastructure, equipments and facing acute shortage of manpower to tackle the different hazhards due to landslides, floods, flash floods, cloud burst, forest fire and others as the state is prone to earthquake since it is situated in the High Seismic Zone – V.
The SDMA further decided to conduct its meeting twice every year from this year onwards.