Arunachal
Arunachal: PCCF (P & D) visits  D. Ering Wildlife Sanctuary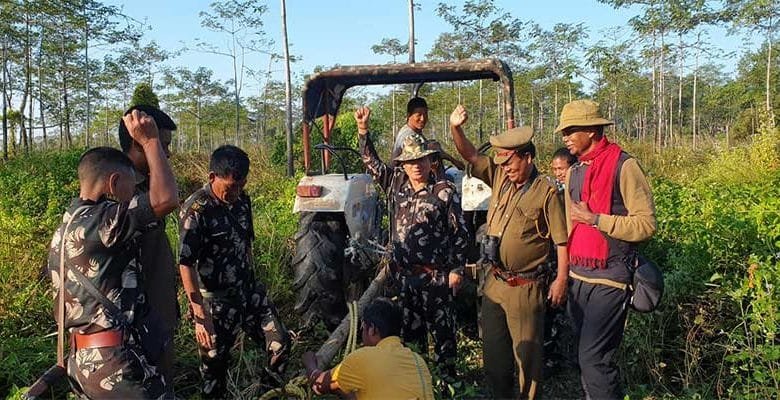 PASIGHAT ( By Maksam Tayeng )- Ashok Kumar Biswal, Principal Chief Conservator of Forest (Planning & Development), Government of Arunachal Pradesh paid a visit to the D. Ering Wildlife Sanctuary in East Siang district on his 3 day visit to this lone riverine Sanctuary of the state.
He visited the sanctuary's Borguli Wildlife Range and joined with the staff in intensive patrolling duties by tractor and covered most of the range covering both woodland and grassland areas of the sanctuary.
After his visit, specifically to the woodland areas, Biswal said that he was amazed by seeing several Butterflies of different species and he suggested for organizing a Butterfly Meet to explore more about the Butterflies of D. Ering Wildlife Sanctuary.
However, D. Ering WLS is one of the oldest sanctuary of Arunachal Pradesh and is known for migratory birds from Siberia and Mongolia during winter visiting the lakes and rivers of various channels of Siang river(Brahmaputra) that criss-crosses and surrounds the sanctuary.
While summing up his visit to the sanctuary today morning, Biswal took the field staffs to the field and applied a new technique to remove Lantana Camara, an invasive species of plant that destroys the grassland.
Biswal was briefed by Range officers Domek Koyu and Orin Perme about the urgent need of Tractors in all 3 Wildlife Ranges of D. Ering Wildlife Sanctuary to which he assured to pursue with the government for allocation of Tractors for all 3 ranges.
On reaching back to Pasighat from the sanctuary, Biswal will hold a meeting in the second half today with the forest officers and staffs on stopping forest fire issues, informed Biswal.
Earlier on Saturday, Biswal was also taken to the natural lake site of Jopong Patang by Tasang Taga,  DFO, D. Ering Wildlife Sanctuary Division wherein Taga briefed Biswal about the tough challenges of the sanctuary and effort being made in last 3-4 year to revive the sanctuary by taking drastic actions against hunters and poachers including encroachers.