Itanagar
Arunachal : Gamlin releases book on "Aromas of Arunachal"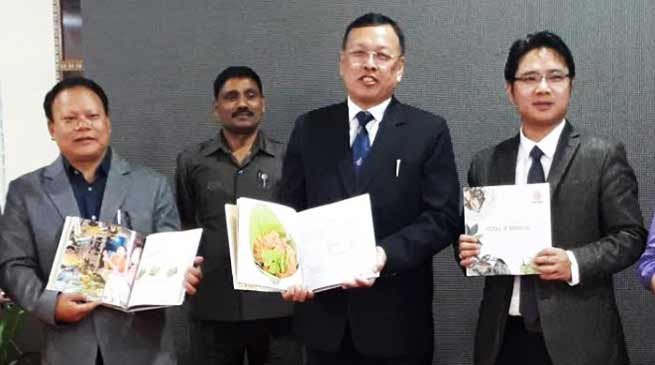 Itanagar
 Aromas of Arunachal – a coffee table book released on Saturday by Tourism Minister, Jarkar Gamlin,  at a function  held the State Food Craft Institute (SFCI) at Indira Gandhi Park, Itanagar. The book reflecting a glimpse into the various cuisines of Arunachal Pradesh.
Published by the Department of Tourism, Govt of Arunachal Pradesh, the book takes readers on a journey across the state from Tawang in the West to Longding in the East through the food of the people. It gives readers an opportunity to look into the lives of the indigenous people in a manner that have never been presented before.
Speaking on the occasion Gamlin  said that the book will not only help tourists but also generate employment amongst the youth who can use the knowledge to explore avenues of employment.
Giving best of luck to the passed out students of the Institute Gamlin said it is an endeavour that this is the third batch of the students who are passing out and will go in field and serve the society by which their family members and the common people as well as tourist will be beneficial and their economic status will also be increased. He said that state government have earlier started the scheme "Chief Minister Paryatan Yojna'  will also be given to those youths who have completed the skill development schemes specially form such Institute.
On this occasion Secretary Tourism, Govt of Arunachal Pradesh, Joram Beda, said that  "We felt that our cuisine is no less delicious than anywhere else but the problem was with presentation and documentation,".  The book, which Beda hoped will not only help create interest in the cuisine of the state but also help preserve traditional knowledge, features dishes that are favourites across the state such as bamboo shoot pickle to the lesser-known Khunchang-Tok, a Tangsa dish where hot stones are an essential part of the cooking process.
Apart from recipes, the book is also peppered with legends and tales of some of the tribes of the state which act as a window into their cultures.
During today's event, around 90 students of the SFCI were also awarded their certificates of completion of different vocational courses of three discipline which include food and beverage production, food and beverage service and Front office management etc. A video show was also screened on Echo cultural diversity of Arunachal Pradesh.
Director Tourism Kento Danggan, Arunachal Pradesh Tours Operator Association (APTOA) President John Panye, Asstiant Director (Tourism) Mana Bengia Sonam  among others eminent personalities were present on the occasion.