North East
Army Busts NDFB(S) Hide out in Sonitpur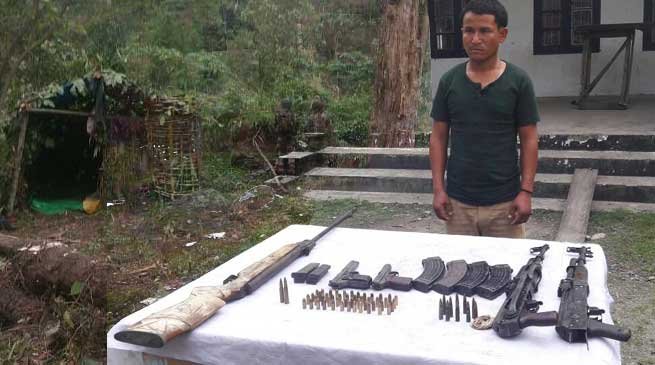 Tezpur
In a search operation jointly organised by Red Horn Division of Gajraj Corps, Assam police and COBRA Battalion  busted one NDFB(S) hideout in the dense forests in Paharpur area on 30 April 2017 . The NDFB(S) cadres managed to escape taking advantage of thick foliage and dense forest, leaving behind large quantity of arms, ammunition, rations and other items to include two rifles, one pistol, fifty rounds and  one grenade which were recovered from the hide out.
According to the press release issued by PRO, Defence, 3rd Battalion of NDFB(S) is currently active in Sonitpur district of Assam. Movement of NDFB(S) cadres in Sonitpur district is restricted to forested areas along Assam Arunachal Border and cadres are mainly involved in extortion activities. Busting of this NDFB(S) hide out has dealt a major blow to the outfits attempt to revive and strengthen itself in the area. The civil population in the area has hailed the joint efforts of Army and other agencies to flush out NDFB(S) cadres from the area.
 Similarly, based on specific information, troops of Red Horns Division under Gajraj Corps and Baksa Police in joint operation apprehended a NDFB (S) linkmen & recovered two AK-56 Rifles two country made rifles and two 9mm Pistol & large cache of ammunition on 30 Apr 2017.
Based on input provided by arrested cadre, , house of  one more accomplice was searched and two AK-56 rifles with four magazines & ten live rounds, one country made rifle, two 9 mm Pistols with 4 magazines and 48 rounds, one 0.303 round and one 7.62mm round were recovered. Apart from being Linkman to NDFB (S), the group is suspected to be involved in extortion and poaching activities in BTAD & Manas Reserve Forest also.