Itanagar
Itanagar-Jully-Papu Nallah road likely to get blocked and affect traffic movement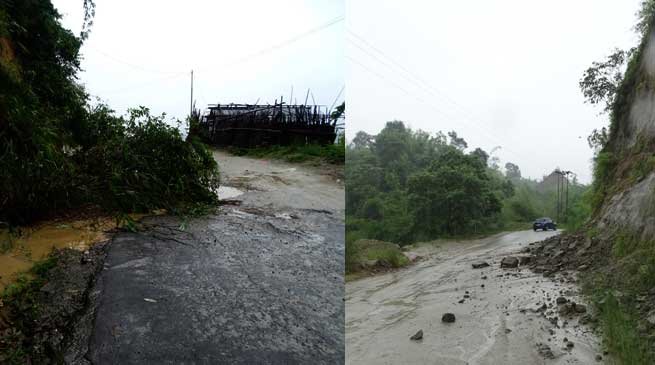 Itanagar 
Normal traffic movement is likely to be affected due to severe landslide at various locations on Itanagar-Jully-Papu Nallah road in capital complex soon.
The heavy downpour for last few days and due to severe landslide at various locations on the stretch of road may affect the traffic movement if the administration did not take immediate action. There is urgent need of clearing of landslide right from Papu Nallah to Jully and to Itanagar. At several location the slide have fallen and been overflowing on road and at one location the mudslide of a drain have overflowed the culvert and flowing and passing through the road.
Report from various places of state are receiving of  heavy rainfall and landslide and road blockage. A Report of severe landslide on Bhalukpong-Bomdila since morning of June 18 and due to which hundreds of vehicle are standing on both side of the road. The blocked.
CO, Bhalukpong  Khoda Rakhi while taking to arunachal24.in  daily over phone said that due to continuous heavy downpour there have been blockage at Kamla-I between Tippi and Jamiri at around 9 AM. The 127 GREEF have been doing the restoration and clearing the road for traffic and the traffic was allowed at around 11 AM  and hundreds of vehicle standing on both side was allowed to pass. However continuous  landslide at various location have resulted to stopped the traffic at Bhalukpong Check gate. The local administration is coordinating and hopeful the traffic would be resumed on morning on June 19 on receipt of information from GREEF.
SP West Kameng PN Khrimey while said that though due to rainfall there have been landslide in various parts of the district and the administration is in alert however traffic movement have not been disturbed.