Itanagar
Arunachalee woman rescued from cruel employer's clutch in Andhra Pradesh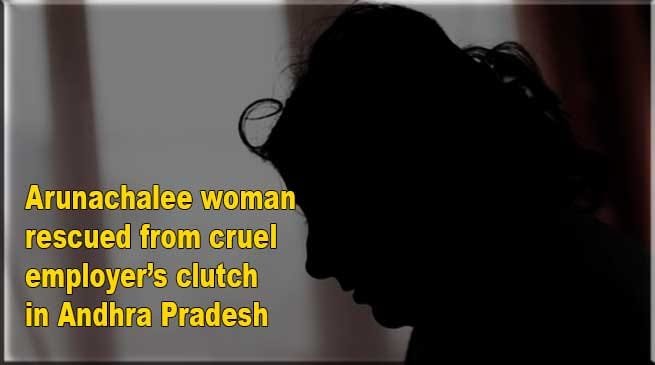 "The employer arrested by police after filing a complaint against while speaking to me over telephone from police mobile vehicle, the victim, an orphan girl was weeping on Wednesday- Robin Hibu
---
Itanagar
By Pradeep Kumar
An Arunachalee woman has been rescued by police from her employer in Andhra Pradesh, who took away her phone, threatened her and harassed her for days.
She managed to contact and explained her ordeal to Helping Hand founder Robin Hibu, who contacted his batch mate Andhra Pradesh ADGP Dr Ravi Kumar. On his direction, East Godavari SP sent a police team led by a lady officer to raid the place immediately and rescued the victim.
"The employer arrested by police after filing a complaint against while speaking to me over telephone from police mobile vehicle, the victim, an orphan girl was weeping on Wednesday, Hibu told Arunachal24 over telephone adding she was flown to Delhi for onward journey to Arunachal.
"Her story I heart rendering as explained to me after reaching here on Thursday. She has been forced to work to support her ailing mother and three young siblings in a remote village. Her case should be treated as a wakeup call for all guardians of NE states to give a serious thought: Should we still send out our sisters and daughters for petty jobs in unorganized private sectors where exploitation and harassment are quite rampant?" he reasoned.
But her statement was shocking when she said: "I forgave that monster employer before leaving with a warning that that we all are on the earth for few years and all have to go back. But she was too worried for hundreds of females like her still working without any job opportunity at home," Hibu said.
"I have requested Dr Kumar to sensitive all SPs and police stations staff to deal with iron hands with such employers who exploit NE girls as thousands are working, particularly in Hyderabad and Secunderabad cities.
 While expressing deep gratitude to Andhra Pradesh Police for promptly rescuing the victim, Hibu, however said: "Sadly thousands are still moving daily from NE states to rest of India in search of jobs and work for peanut salary for survival with no alternative and expressed grave concern about their dark days ahead in cities".
The Helping Hands continue to help the women in distress but there should be an end to their tragedies as they are equal citizens of this great nation, Hibu added.