Arunachal
Namsai- Two Drug Pedllers caught from Enthem Village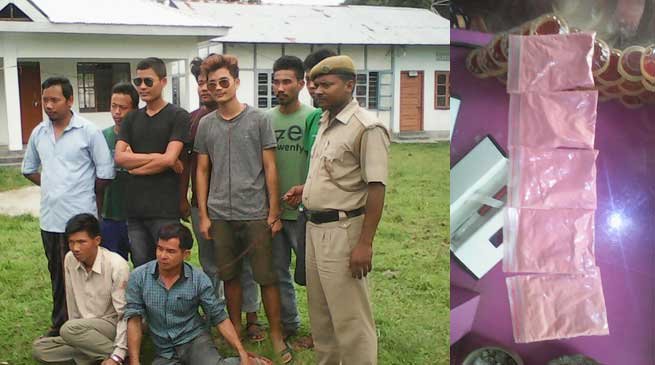 Namsai
On the basis of reliable information about the presence of some drug peddlers at Enthem village under Namsai Police station, the Youth Association of Manna Enten & Enthem (YAMEE) rushed to the area and caught two drug peddlers.
The duos caught by the YAMEE are identified as Mr. Subash Kanti Chakma and Arun Bihari Chakma of Dumpathar-III (Udaipur) Changlang District. While Punseng Manpoong of Manmow Village and Chow Nachatey Choumoung of Enten village Namsai District managed to escape from the spot.
The association claimed that it recovered 23.45 gm of brown sugar along with cash amounting to Rs 5000/- and an ATM card issued in the name of Chow Punseng Manpoong from their possession.
A case has been registered by the youth association at Namsai Police Station and demanded for immediate arrest of the absconding persons and impose rigorous imprisonment for the duos caught by the organization.
The organization YAMEE was formed with a plan to fight and eradicate the drug menace plaguing the society and encourage the youths and students to join the campaign against drugs. Of late, Namsai, Changlang and some neighboring districts are caught in the vicious circle of drug abuse and the numbers of drug addicts are increasing day by day.