North East
Army Killed 6 KPLT Terrorists, Bursts Camp in Namber Reserve Forest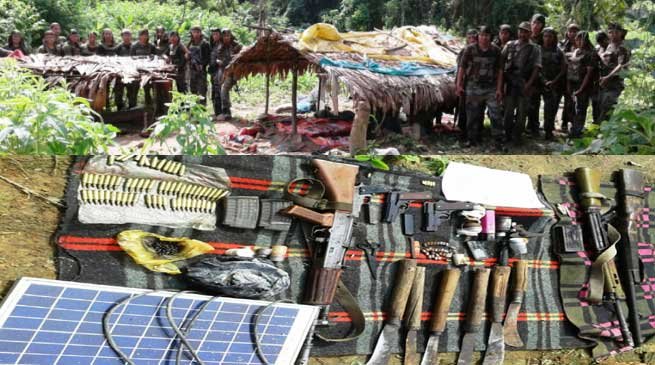 Guwahati
In what is being seen as the one of the biggest operations in the fight against terror in the North East India in the recent times, Indian Army based on specific hard intelligence killed six  terrorist of Karbi People Liberation Tigers ( KPLT ) in the dense Nambar Reserve Forest in East Karbi Anglong Districtof Assam on Thursday's midnight.
On receiving specific intelligence of presence of a KPLT camp in the dense Nambar Reserve Forest in East Karbi Anglong Districtof Assam, the Indian Army along with Representatives of Assam Police launched a joint operation in the afternoon of 22ndSeptember 2016, to nab the terrorist and destroy their camp. At around 0100hrs on 23rd September 2016,the Army troops observed the camp with armed terrorists. On being challenged the terrorists opened indiscriminate fire on the troops, own troops also opened controlled retaliatory fire and in the ensuing fire fight four terrorists were neutralised. The other terrorist taking advantage of the dense jungle tried to escape, on which the troops launched a pursuit of the fleeing terrorist, and once contact was re-established with the fleeing terrorist group, two more terrorist were neutralised in the ensuing  fire fight.
The six terrorist neutralised include a Self styled Operation Commander and Area Commander of KPLT. A large quantity of Arms, ammunition and other warlike stores were recovered from the terrorist camp. The recoveries included One INSAS Rifle, One 7.62mm Self Loading Rifle, One Country made Rifle, Hand Grenades, large quantity of ammunition of all types, fired cases, Solar Chargers, Blankets and other war like and survival stores.
The operation as brought out above, has been one of the most successful one in the recent times in the North East and has lead to near decimation of KPLT which has been the most prominent anti national group active in both West and East Karbi Anglong, Assam. This has been the result of well coordinated  and relentless operations being conducted by the Army in conjunction with Assam Police, leading to maintenance of momentum of operations resulting in constant  pressure on the terrorist  groups thereby preventing them from getting the room to carry out their reprehensible activities which include extortion, kidnapping for ransom, inference in civil development activities and killing of innocent civilians    in the populated areas. This synergized pattern of operations have been lauded by the locals and the civil authorities, who have witnessed a rapid transformation in the security situation in West and East Karbi Anglong, which has provided for execution of development projects  in the region without any obstruction  by these terrorist groups like KPLT.