North East
Demand of Bodoland is genuine- Federation of New States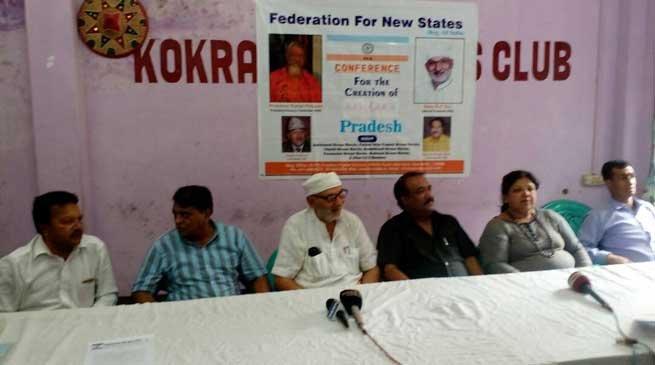 Kokrajhar
By Kanak Chandra Boro
Demand of Bodoland is a genuine and long standing of the Bodos who have their rich tradition, culture and language. This was stated by the president of Federation of New States,  Ram Krishan Dev (Tomar). A delegation of the Federation for New States (FNS) visited BTAD headquarter Kokrajhar and extend their support to the creation of separate Bodoland state.
Ram Krishan Dev also said the creation of Bodoland has also become a necessary to safeguard the indigenous people, their land from the illegal occupants of Bangaldeshi migrants.
"Tripura is an example where the local indigenous people has become minority in their own land at the hand of migrants Bangaladeshis who now rule Tripura. The same thing is happening in Assam, more so in Bodoland region where the migrants Bangladeshi are occupying the land. This can be stopped only when the Bodoland would be created, he said.
"We (FNS) have helped in the formation of new states before and we will also do so for Bodoland state along with Gorkhaland, Vidharba and others who are demanding statehood," Tomar said.
The federation president also claimed the Centre has made up its mind to create new states in 2019.  "We have specific information after interacting with senior BJP leaders and MPs in Delhi that in 2019, the central government intends to create new states. The need of the hour is for all political parties of the Bodoland to voice their demand in unison and create pressure on the government. It happened when Uttarakhand, Chattisgarh, Jharkhand and most recently Telangana was formed," he said adding "We want that Bodoland state, which is a very old demand should also be formed when the government creates new states.
The the Federation for New States (FNS) is organising a seminar on the issue of smaller states on May 28 in Nagpur where Central BJP leaders including Nitish Gadkari, and Teleghana chief minister Chandrashekar Rao are likely to attend.
"Issues on creation of smaller states would be discussed during the seminar and the federation would pressure the government for creation of smaller states for better development and peoples participation.  We are also collecting signatures of MPs to get a majority," he said.
It is to be mention that the FNS is a Delhi based organisation formed by leaders seeking the creation of smaller states for better administration and all-round development of all communities.