North East
VIRAL
Assam floods- Death toll 40,  15 lakh people across 23 districts affected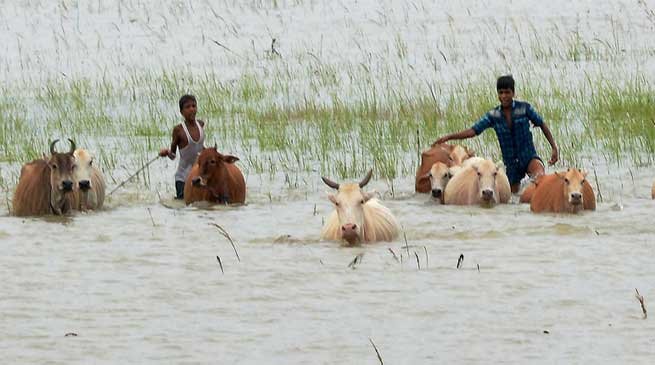 Guwahati
The flood situation deteriorated further in Assam with six more persons losing their lives and over 15 lakh people across 23 districts affected by the flood.
The number of casualties due to floods in Assam have now reached 40  following the death of a Class 3 student who was washed away by strong current at No 1 Botua village in Dhemaji. The young boy has been identified as Kulen Narah. Locals were able to recover his dead body after hours of being swept away by the flood water.
According to state disaster management authority, nearly 1100 villages are drowned and nearly 41,200 hectares of crop area have been damaged. Due to the impact of flood waters, many roads, embankments and bridges have been severely damaged in several districts.
In Jorhat, two persons were killed in the last 24 hours by flood waters and at Chabua in Dibrugarh, one went missing in the Dibru river, the ASDMA said.
In Sivasagar district, one person died at the Dimow revenue circle and at Baghbar in Barpeta, another person died due to flood waters, it said, adding that Joydeep Deb died from electrocution in Kamrup Metropolitan.
According to ASDMA the  worst affected is Lakhimpur and Dhemaji where over 1.21 lakh people have been affected followed by Karimganj with more than 1.19 lakh suffering from the deluge. Authorities are running 181 relief camps and distribution centers in 10 districts, where more than 18,000 people are currently taking shelter.
As the flood situation remained critical, Assam governor Banwarilal Purohit on Tuesday visited the affected Nagaon district and spent time with people at relief camps, an official release said.
At the Kaziranga National Park, 129 anti-poaching cap area or 73 percent of the forest is under water, leaving some animals dead and forcing some to move to nearby higher lands.
According to the Centre for Wildlife Rehabilitation and Conservation (CWRC), nine hog deer were rescued from the Park on Tuesday, out of which three were released back into the wild.
"Two seriously injured deer died during treatment and one is under care at CWRC. Three were found dead on arrival of the rescue team," it said in a statement.
Some animals were killed by speeding vehicles on the National Highway 37, which passes through the Park.
Currently, the Brahmaputra is flowing above the danger mark at Nimatighat in Jorhat, Tezpur in Sonitpur, along with Dibrugarh, Goalpara and Dhubri towns.
Other rivers flowing above the danger mark are the Burhidehing in Dibrugarh's Khowang, the Subansiri in Lakhimpur's Badatighat, the Dikhow at Sivasagar town, the Dhansiri in Golaghat's Numaligarh, the Jia Bharali in Sonitpur's NT Road Crossing, the Puthimari in Kamrup's NH Road Crossing, the Beki in Barpeta's Road Bridge, the Sankosh Golokganj in Dhubri and the Kushiyara at Karimganj town.