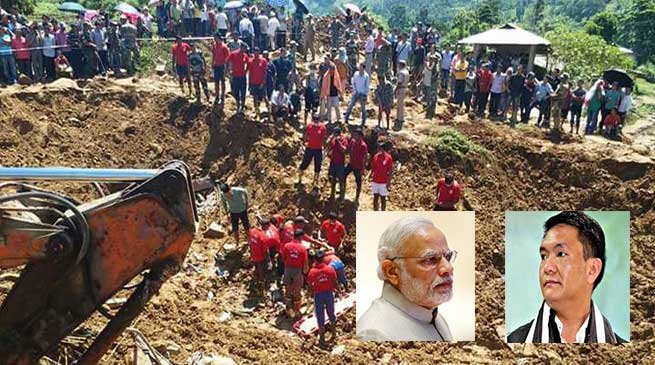 Itanagar 
Prime Minister Narendra Modi spoke to Arunachal Pradesh Chief Minister Pema Khandu today and took stock of the prevailing situation in the state and discussed about the laptap land slide incident.
Incessant rain triggered landslides and flood in the last many days have claimed several lives and left behind trails of large scale devastation in the entire state. Many district and administrative headquarters have been completely cut off from the rest of the world while the exact magnitude of the damage is still being assesed.
Expressing his deep sorrow over loss of several lives at Laptap under Sagalee including a minor in Itanagar due to the natural catastrophe, Prime Minister conveyed his condolences to the bereaved family members. In his telephonic conversation with Khandu, Modi said that the country is with Arunachal during this trying times.
Assuring all possible support from Government of India, Prime Minister informed Khandu that the PMO is continuously monitoring the situation of Arunachal Pradesh and has assigned Principal Secretary to Prime Minister P K Mishra for the purpose.
The Prime Minister also enquired about the quantum of damage caused due to the natural calamity and measures taken by the state government and status of relief and rescue operations. He has sought an immediate report on the present situation.
The Chief Minister briefed the Prime Minister that the State Government is making all out effort to combat the present situation. Relief camps have been set up in affected areas and strict advisories have been issued to the general public to vacate from the vulnerable areas to the designated relief camps, Khandu informed Modi. He further informed about the ex-gratia being released immediately to the victims as per the laid down norms.
Prime Minister informed the CM that he has directed Union Minister of State for Home Affairs Kiren Rijiju to visit Arunachal immediately to take stock of the situation. Mr Rijiju is expected to visit the tragic incident spot of Laptap on Thursday and then make a joint aerial survey of the entire State on Friday with the CM. The duo also spoke on the telephone and discussed the prevailing situation of the state.
Earlier on the day, Union Home Minister Rajnath Singh also spoke to CM Khandu and expressed his sorrow over the entire incidence. He assured all possible assistance from his ministry to Arunachal Pradesh.
Minister of State, PMO and DoNER, Jitendra Singh while talking to CM has sought for a report from the state government. He assured Khandu that the central government will take all necessary steps for the state.
Khandu has directed the Secretary Disaster Management to immediately submit a report to be forwarded to Government of India on the current situation.