Arunachal
Arunachal's first lady graduate Bormoty Yirang Dai and 2nd lady teacher Palonty Yirang Tayeng release Borguli Doying book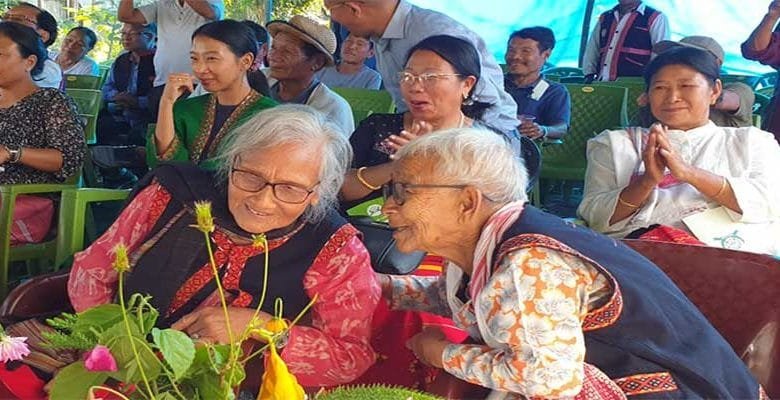 PASIGHAT – ( By Maksam Tayeng ) In a formal ceremony held at Borguli village under Mebo Sub-Division here in East Siang district organized by Radang Sirum of Borguli village, Arunachal Pradesh's first lady graduate Mrs  Bormoty Yirang Dai and Mrs Palonty Yirang Tayeng, 2nd lady teacher from Arunachal Pradesh released a book titled 'Borguli Doying' amidst the presence of Olen Rome, Zila Parishad Chairperson of East Siang district and other retired and senior citizen of Borguli village today.
While releasing the book, Bormoty Yirang Dai and Palonty Yirang Tayeng who graced the occasion as Chief Guest and Guest of Honour, deeply admired the team Radang Sirum of Borguli for their meticulous effort to write and compile the book wherein the history of the Borguli village is minutely drawn up and written since from its establishment as a village.
Also Read- IAF airlifts patient from Tuting to nearest advanced medical facility
The book's author Bolet Tayeng, a member of Radang Sirum describes the history of Borguli village since September 1950 where the village was established first at Pekar Pumi area, a kilometre away in the north-west of present Borguli village before the village was shifted to present location in 1951. As per the book, the name of Borguli village was derived from a big cycled and rotating part of a river ('Bor' and 'Guli' in Assamese and 'Asi Siel' in local Adi dialogue).
Post 1950 major earthquake the people of present Borguli who first settled in the Pekar Pumi area for around a year approached the then Asst. Political Officer office (now Dy. Commissioner's office) for relief ration drop led by late Modon Perme.
For the earthquake relief drop, the official from the then APO office Pasighat needed the name of the village to register, so the village name was given as Borguli derived from the big cycling and rounding part of a river which could be identified by the ration sortie Helicopter from the air and so name of Borguli came into record on 17th October 1950.
Also Read- New Zealand kiwi experts tour Ziro valley to explore collaboration for kiwi production
Both Bormoty Yirang Dai and Palonty Yirang Tayeng were born and brought up at Borguli village who later went to become the first lady graduate (Dai) and 2nd lady teacher (Tayeng) from the state thereby marking a history in the state where lady education was a kind of taboo in those years.
Both Dai and Tayeng who are old now candidly recall the tough life in those days and how their parents toiled to let them study when other people discouraged their daughters to go to school in order to help the family in agricultural works.
Both Dai and Tayeng said that their students became who and who of modern Arunachal Pradesh after they became teachers. The lady torch bearers of the state and particularly of Borguli village appealed to the villagers of the village to maintain brotherhood and cooperation in order to live happily and unitedly while acknowledging the team Radang Sirum to compile and write the book in Adi.
Also Read- North East India Fashion Week – The Artisans Movement from 19th-21st November
On the part of Radang Sirum, author of the book, Bolet Tayeng expressed his thankfulness to Late Dondiram Pegu, Dhonmeswor Pertin, Bideshor Perme, Bormoty Yirang Dai, Palonty Yirang Tayeng, Smty Payem Perme and others for their valued input in writing the book. "I have tried my best to compile and write the entire history  and who and who of Borguli's first in the various fields in my book 'Borguli Doying' to be kept as a written record", informed Bolet Tayeng to this scribe.
While admiring the effort of the Radang Sirum of Borguli, Olen Rome, ZPC of East Siang said that such initiative and support with cooperation should always prevail in the village for communal harmony. "I have seen the team Radang Sirum in previous time also where they have felicitated and honoured the old age and pioneer of Borguli village in a ceremonial programme which is uncommon to see in other villages", added Rome who hails from Borguli village's neighboring Ngopok village.