North East
Arunachal: Chowna Mein Conferred with Bengmora Samanway Award 2023 in Assam
The award recognises his outstanding contribution towards promoting brotherhood, cultural harmony and preserving indigenous heritage between Assam and Arunachal Pradesh.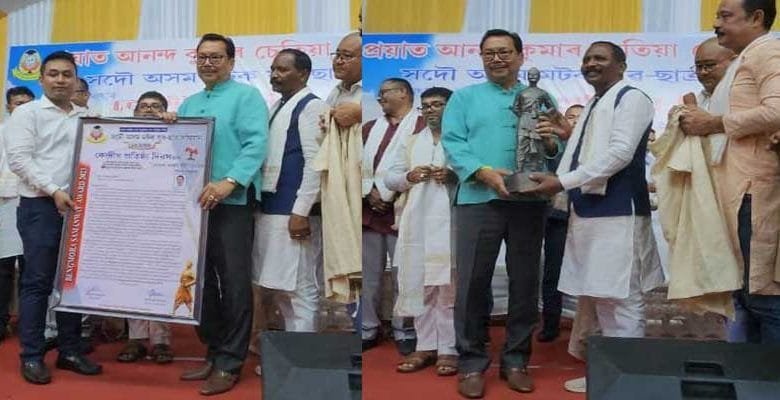 TINSUKIA: The All Assam Matak Yuva-Chatra Sanmilan (AAMYCS) presented the prestigious Bengmora Samannay Award 2023 to the Deputy Chief Minister of Arunachal Pradesh, Chowna Mein, at the 83rd Central Foundation Day event held on 28th October at Dirak, Kakopothar in Tinsukia. The award recognises his outstanding contribution towards promoting brotherhood, cultural harmony and preserving indigenous heritage between Assam and Arunachal Pradesh.
In his acceptance speech, Deputy Chief Minister Mein expressed his deep gratitude upon receiving the esteemed award, which is an affirmation of the people's love and appreciation for his work.
Arunachal: Governor interacts with troops at Sela Pass
As a member of the Tai Khamti clan, Mein talked about the strong bond of friendship between the Khamtis and the Matak community, dating back to ancient times. Emphasising on the friendly association, Mein further talked about the long-standing neighbourly bond between Assam and Arunachal Pradesh, where many Arunachalee people including those belonging to the Khamti clan grew up learning about the art & culture of Assam.
He stated that majority of people in Eastern Arunachal are very familiar with the Assamese language. And emphasised on the prevalence of more than 100 Namghars in Arunachal Pradesh, where candles are lit every day and cultural activities like Bhaonas, Ras, etc. are also conducted on a regular basis, being kept alive by the Assamese diaspora in the State.
Assam and Arunachal Pradesh share an ancient bond which dates back to historic times, much before the Independence of India. Mein recalled how the brave warrior, Chaupha Planglu alias Ranua Gohain of the Khamti clan fought against the Britishers to safeguard Sadiya in the Anglo-Khamti War of 1839.
These historic episodes remained missing from the chapters of Indian history for far too long. And as such, Govt of Arunachal Pradesh undertook the mammoth task of identifying and documenting the tales of unsung heroes of Arunachal Pradesh as part of Azadi Ka Amrit Mahotsav.
Landslide blocks diversion tunnel at NHPC's Subansiri hydro project
Throughout the process, a detailed collection of data was recorded from the British Museum, revealing many unknown facts about the Anglo Khamti War. One of such facts include a letter sent by Piyoli Phukan to Ranua Gohain for fighting against the Britishers.  Through these archives, it has also been revealed that the relationship between the Khamti and Matak community go long back and they have been at each other's aid since centuries.
In light of the cultural similarities and the long-standing association between Assam and Arunachal Pradesh, Mein highlighted the significance of preserving our own culture, both in Arunachal Pradesh and in Assam.
He reflected on the contributions of the legendary singer Dr. Bhupen Hazarika and several other luminary figures from both sides, who worked towards building a strong pool of cultural exchange between the communities.
Arunachal: Mein attends Platinum Jubilee Celebration of Govt secondary School, Balek
He appealed the younger generation of Assam, to actively work towards cultural preservation of their ancient heritages, while also spearheading the Digital India movement. During the inauguration of Indian Mobile Congress on 27th October 2023,  PM Modi stated that young India is leading in inventions and 6G applications. Reinforcing on this message, Mein also spoke about the potential of a digitally empowered nation, that can not only accelerate self-reliance, but can also enable us to preserve our culture via innovative mediums for the future generations.
On the occasion, Minister of Labour & Employment and Welfare of Tea Tribes, Govt of Assam, Sanjoy Kishan, MLA of Lahowal, Assam, Binod Hazarika, CEO of Motak Autonomous Council, David Chetia, President of All Assam Motak Yuba Chatra Sanmilan Ranjit Gohain, Advisors of AAMYCS, Mintu Borpatra & Arup Boruah, President of Motak Ranbangsha Union Samiti, Hemonta Gohain, GS of All Assam Motak Yuba Chatra Sanmilan Swarup Gohain, Executive Members of Tai Khamti Singpho Council, Tai Khamti Development Society, All Namsai Area Youth Association and Members of Tai Khamti Heritage & Literary Society were also present among others.