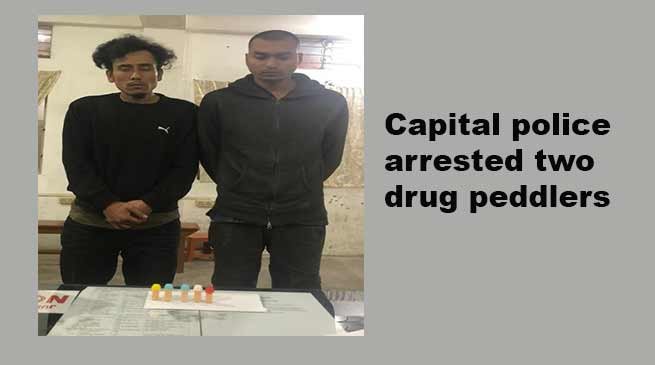 In the fight against the drug menace the Capital Police team arrested two drug peddlers.
---
Itanagar
In the fight against the drug menace the Naharlagun Police team arrested two drug peddlers . The y identified as Kukhal Jurai, Naharlagun and Deepak Nath, of Police Colony, Itanagar were in the eye of the police net.
The arrest was held in connection with Naharlagun PS Case No-119/18 u/s 120(b) IPC r/w Sec- 21(b) NDPS Act and 25(1A) Arms Act.
Papum Pare district SP and Incharge Capital police chief  Tumme Amo  inform that 10 grams suspected heroine was seized from their possession. Both of these boys are peddlers active in the region and they were caught after setting a trap.
The team led by SI Sushant Saurabh Jha and party under the supervision of OC PS Naharlagun Inspector Nikom Riba and SDPO Naharlagun Make Bui  trapped both the peddlers.
Amo informed that the Naharlagun police team in reference to the above Case have already arrested five persons including the supplier of drugs based in Guwahati and from their possession recovered an illegal Chinese made 9mm pistol and around 100 grams of heroine.
After the arrest of supplier police party have been taking efforts to nab all peddlers linked to him.
The arrests made on Monday and in continuation of those efforts and more arrests are to be follow in the upcoming days.
Further SP appealed to the youth to stay away from drugs  which not only affect the health as well as affect the economic condition and advice to live a healthy life and happy life.