North East
ABSU Congratulates UPSC passing candidate Manoj Swargiary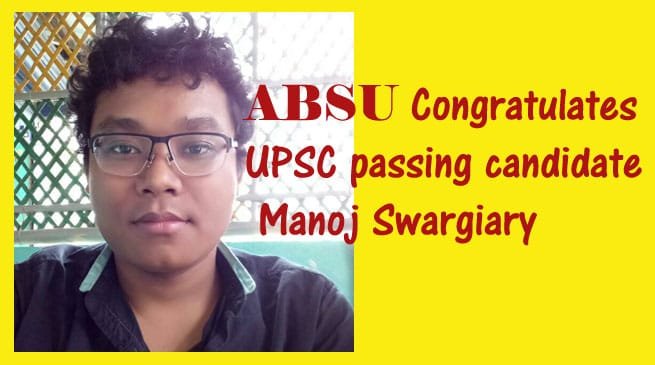 Kokrajhar
The All Bodo Students Union (ABSU) confers the heartiest congratulations to the UPSC passing candidate Manoj Swargiary from Barama, Baksa, securing CSE 2016 at the rank 1058. Who deserves the loudest applause from the Bodo Community after many years clearing the UPSC. The ABSU has reminded that he was the HSLC First Rank topper from Science Stream under AHSEC in the year 2009. His excellence in his career has remarkable success after he had attain the engineering degree from the IIT, Guwahati. The ABSU is always proud of him and wish him great future in the service of the nation.
The Kamal Kumar Brahma Derhasat Banta is conferred every year to the Top Ten HSLC passing students from the Bodo Medium School across Assam. The selection of top ten is done every year by ABSU and by conferring this award the vision is to encourage the younger generations to be aware of the Quality Education. This initiative got started since 2006 when ABSU has declared the year as 'Year of Education' and subsequently declared 'Mission Quality Education' from 2007-2020.
Conducting Central Talent Search Exam every year by ABSU has given the opportunity to quality test from amongst the Bodo Medium students. The success story of the All Assam Top Ten holder in the Tenth Rank (10 Rank) in HLSC 2017 result Bibungsar Basumatary from Barpeta has topped the Central Talent Search Exam of ABSU, when in Class IX in 2015 and in 2016 Class X. His quality and ability was tested and tried finally proved it securing the 10th Rank in 2017 HSLC in Assam.On this day of great achievement ABSU has the standing resolution to confer felicitation to any top ten ranking Bodo Medium Students with the amount of Rs.50000.00 Cash, along with the Kamal Kumar Derhasat Banta which is conferred every year to the top ten listing from Bodo Medium HSLC passed candidates from across the state. This year the Kamal Kumar Brahma Derhasat Banta 2017 will be held at Baram, Baksa on 7th June 2017.
The list of 2017 Top Ten Ranking from Bodo Medium is listed bellow for the upcoming event of conferring 12th Kamal Kumar Brahma Derhasat Bantha 2017.
12TH KAMAL KUMAR BRAHMA DERHASAD BANTHA TOP TEN (10) RANKING STUDENTS LIST BY ABSU
Sl no
Rank
NAME
SCHOOL NAME
MARKS OBTAINED
%
 1
1st
Bibungsar Basumatary
Upendra National Academy, Barpeta
580
96.67
 2
2nd
Ajanta Boro
Sanja Bwrali Bathau Ashram High School, Goreswar
562
93.66
 3
3rd
Bijirgiri Basumatary
Upendra National Academy, Amjongya
560
93.33
 4
4th
Abir Basumatary
Upendra National Academy, Kokrajhar
558
93.00
 5
5th
Moondeep Ramchiary
Bathau Ashram High School, Barama
552
92.00
 6
6th
Kuldip Boro
Hathorkhi Foraisali, Salbari
550
91.66
 7
Julimainao Basumatary
Bathau Ashram High School, Barama
550
91.66
 8
7th
Happily Brahma
Upendra National Academy, Kokrajhar
545
90.83
 9
8th
Diksha Basumatary
Upendra National Academy, Kokrajhar
542
90.33
 10
9th
Rahul Goyary
Sijou Academy, Keshab nwgwr
539
89.83
 11
10th
Tirangtha Brahma
Upendra National Academy, Kokrajhar
536
89.33