Arunachal
Pul appealed for a one-time special package for Arunachal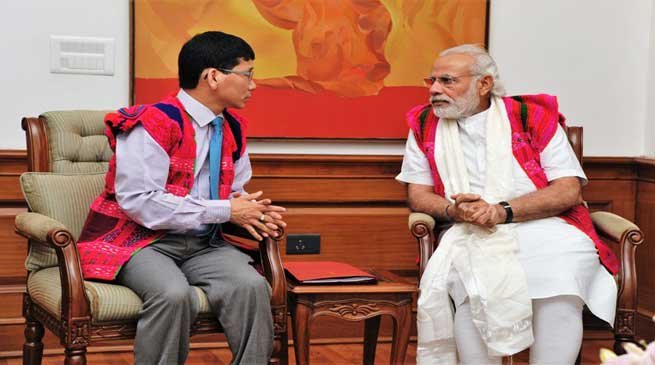 New Delhi
Arunachal Chief Minister Kalikho Pul appealed for a one-time special package to boost the economy and compensate for years of under-development in the state. The Chief Minister Kalikho Pul meets PM Narendra Modi in Delhi on Wednesday.
The appeal for package was based on the report of Dr Raghuram Rajan committee for evolving a composite development index of states, which identifies Arunachal among the "least developed" states in India.
The CM said the economic package is not merely an investment for development of the state, but it's an investment for the country, he said.
Also CM said it was time to move beyond the rhetoric of Arunachal as an integral part of India and to initiate real development on the ground. For that to achieve, special concession must be granted to Arunachal due to its hard terrain and its strategic importance, said the CM.
He requested the PM to waive of population criteria and other national norms that forms the basis of grant of development packages and for implementation of government programme and policies in the states of India.
Saying that Arunachali people are the vanguard in securing the international borders, and in their presence the country has the legitimate claim over the borders, the CM sought support of the centre in making these area habitable.
He informed on alarming trend of migration of border communities to urban centres, resulting in the emergence of unclaimed and unoccupied lands that allow for ease of intrusion.
To prevent such intrusion, the CM sought support on developing facilities for basic amenities such as foot suspension bridges, culverts, water supply, health facilities, education, power and communication reach.
We must match our development with neighbouring China. Their border areas are well connected with road and air with all modern amenities, while our side is weak on all terms, said the CM.
PM agreed to provide centre's full support and resources for development of Arunachal and said the country's strength lay in these border areas.
On rail connectivity, the CM urged for immediate development of railway network in foothill towns such as Deomali, Namsai, Tezu, Roing, Pasighat, Likabali, Seijosa and Kimin. In addition, he sought centre's attention on further development of rail network in interior pockets as long term plan.
Also assuring his full support on every issue raised, PM agreed on immediate development of railway networks and assured to waive of national norms for Arunachal in implementing government policies and programmes.
On development of tourism in Arunachal, CM said it could develop with proper infrastructure plans. A mere construction of a tourist guesthouse will not attract tourists. But it has to be with developing proper facilities along the road circuit with all modern amenities.
On request by CM for a visit to Arunachal, PM Modi readily agreed and said will be formalized soon.