Arunachal
Pul request for denotification of Reserved Forest areas of the state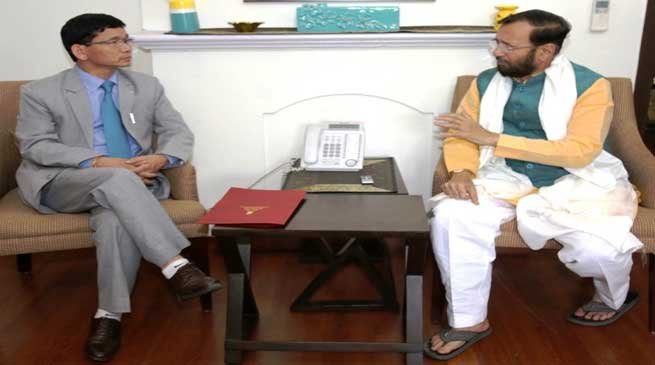 New Delhi
In a meeting with Union Minister of State for Environment, Forest and Climate Change, Prakash Javadekar, the Arunachal Chief Minister Kalikho Pul request for denotification of the reserved forest areas that cover major towns and large human habitations of the state.
The Cm said that the  state government intends to undo the past injustice, where many existing villages and community lands were notified as reserved forest, especially during 1970s to 1990s.
He informed to the Union minister that several portions in all major district headquarters in the state are under reserved areas. Even important institutions and establishments in Itanagar, such as Raj Bhawan, CM's office, and many important government building today are well within the notified areas.
Due to such arbitrary notification, people are deprived of economic and development benefits as they do not have legal claims over their land. They are deprived of government subsidies and loans for rubber and tea cultivation. Several banks and financial institutions such as NEDFI and NABARD are not ready to invest or loan money for setting up businesses due to such constraints. Also projects for essential services like roads, drinking water schemes and hydel projects are being stalled, said the CM.
The CM  requested the union minister for delinking basin studies from forest clearance, due to which Several Power projects being delayed.  He mentioned that several projects, which were under implementation has been held up due to mandatory requirement of basin studies to get the final nod from the environment ministry. This has severely affected the confidence of the investors, as the fate of several projects remains uncertain, said the CM.
He, therefore, requested the union minister for a single window clearance system to expedite execution of power projects stating that power requirement is critical not only for state's development but for nation as well. The CM also suggested that for smaller hydro projects below 25MW, which does not come under the purview of EIA notification 2006, could be exempted from basin study.
 The union minister assured the CM that centre would lend all helping hands to expedite execution of development projects in Arunachal and to lessen the hurdles in forest clearance. On development of border infrastructures, the minister informed that ministry has granted general approval for all security infrastructures projects 100 km inside the international border. Also he informed that ministry has exempted from the purview of forest clearance, all linear projects – such as highways – in the Border States.