North East
Four from Assam Lose Lives in Arunachal after rock falls on their car
The four men hailing from Kokrajhar district of Assam were returning home from a religious ceremony held in Arunachal Pradesh.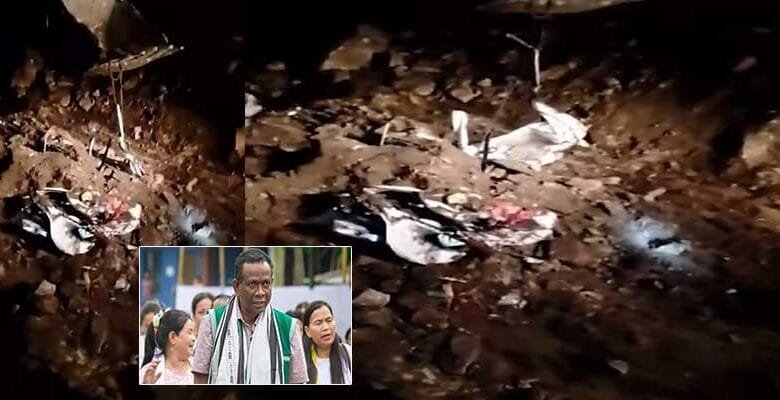 DUMPORIJO- Four people from Assam died after a huge rock fell on their vehicle from a mountain on the Trans Highway of Arunachal Pradesh. The accident occurred between Muri Mugli and Gemi in Arunachal Pradesh.
The accident occurred when they were returning from Dumporijo after attending a healing crusade festival over there,  a huge rock dislodged and fell on their vehicle because of a landslide. The accident occurred on the Trans Highway between Muri Mugli and Gami Road. The four died on the spot.
Also Read- Assam Rifles personnel and a youth injured in exchange of fire
The deceased were residents of Gosaigaon in Kokrajhar district. The deceased were identified as Nirmal Hemram of Habrabil Nepalpara, Reverend Christopher Hembrom of Srirampur and Abhijit Hemram of Srirampur. The fourth person is yet to be identified.
Reverend Christopher Hembrom, who attended the three days healing festival at Dumporijo in Upper Subansiri District of Arunachal Pradesh from November 15 to 17 was the main speaker at the event.
Also Read- Promising youth leader's death mourned
The news has shocked the local community, as Reverend Hembrom was not only a spiritual leader but also actively involved in community welfare projects. Known for his transformative journey from a vengeful rebel to a preacher of peace, he had garnered significant public interest.
Police and well-wishers are at the site, and the bodies will be transported to Daporijo for post-mortem. The incident has triggered an outpouring of grief and condolences from the public, emphasizing the impact Reverend Hembrom had on the lives of many.