Arunachal
Arunachal: Let us prevent Kley River from turning into another Yamuna: Tage Taki
More than 2500 denizens of Ziro valley turned up to lend their helping hands in cleaning up the 29 kms stretch Kley river surrounding the valley.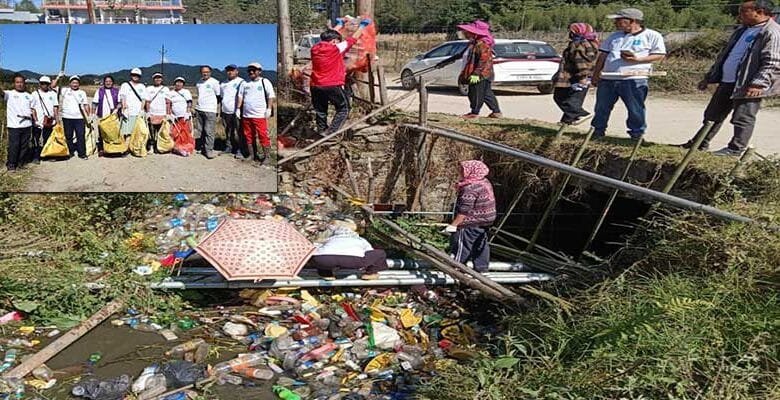 ZIRO-  Let us not allow our lone river to turn into a dirty river like Yamuna and we should all make concerted efforts to save our dying Kley River, said local MLA and Minister Agri & Allied Tage Taki while participating at the 9th edition of Mission Clean Kley River (MCKR) here yesterday.
Elaborating more on saving the Kley river from pollution and maintaining its cleanliness, Minister Taki appealed the dwelling house owners located near the river not to release the household water directly to the river but to treat it prior to its release to the river.
Also Read- Ziro resolves to make MCKR more effective and successful
Further, Taki also pointed out it was not possible for Apatani Youth Association (AYA) or the District Administration to continue hand-holding the cleanup operation for a long time but it was the conscientious duty of the citizens of the valley to keep their lone river clean.
Despite being a Monday and a working day, more than 2500 denizens of Ziro valley turned up to lend their helping hands in cleaning up the 29 kms stretch Kley river surrounding the valley. The Minister also donated T-shirts to all participants of the MCKR.
Using traditional bamboo poles, brooms, nets, clippers and gunny bags, participants cleaned up the river from piled up garbage, plastic bottles, sanitary napkins, polythene bags and dead animal carcass which were later disposed of to their designated dumping sites using UD and Housing garbage disposal vans.
Urging the denizens of the valley to continue cooperating with AYA in keeping the Kley River clean, AYA president Tapi Mali informed that he District Administration had recently issued an office memorandum outsourcing the task of cleanliness of the river to AYA on pilot-project basis.
Also Read- Tage Taki inaugurates Food Festival at dree ground
Considering the sincerity, dedication and seriousness of AYA for the past eight years in upkeep of our lone river, the District Administration, AWAZ, CBO's, PRI leaders, student leaders and NGO's in a joint meeting has entrusted the responsibility of maintaining the cleanliness of Kley River to AYA, which is a huge responsibility and daunting task for us, said Mali.
The AYA president further appealed the people of the valley to inculcate civic sense and not to dump garbage at the river which would cut their task easier.
Apatani Women Association Ziro (AWAZ) president Hibu Lilly and General Secretary Leegang Ania appealed the women not to dump sanitary napkins, huggies and plastics items into the river. We also appeal our women farmers not to dispose of the plastic items at the river, but to carry back the left-over plastic items from paddy field back to their homes for their proper disposals, they appealed.
Further, the AWAZ representatives informed this year they found the Kley River cleaner than last year. Perhaps our recent one-month awareness campaigns at the villages of the valley on 'proper garbage segregation, management and disposal' has been effective and brought some positive changes in garbage management at the valley which is indicative and reflected through a cleaner Kley River, they echoed.
Also Read- Tage Taki inaugurates Aquaculture Technology Park at Sonajuli
The operation MCKR was divided into 16 sectors with an overall in-charge team leader from AYA assisted by a HoD and participating members. The day-long MCKR started from 9 am in the morning till late in the noon.
The 9th edition MCKR was participated by local MLA and Minister Tage Taki, Lower Subansiri Deputy Commissioner Bamin Nime, all HoDs and staffs, PRI leaders, Apatani Women Association Ziro (AWAZ), Apatani Gaon Bura-Buri Association, CBOs, Apatani Students Union, students of St.Claret and Mudo Tamo colleges, higher secondary school students from all schools of the valley, market welfare committees and general public.