Sports
AAPSU appeal for peace and tranquillity along Arunachal-Assam boundary area
ADVERTISEMENT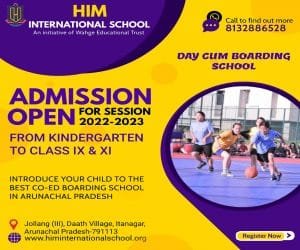 Balijan
All Arunachal Pradesh Students Union ( AAPSU ) President Hawa Bagang said that AAPSU in any case will stand for peace, tranquillity and communal harmony in Arunachal-Assam boundary area of both state.
AAPSU being a constituent partner of NESO will always advocate for immediate solution of inter- state boundary dispute for an amicable and a lasting solution.
AAPSU President was addressing a huge gathering of football lovers from both state at General ground here on the occasion of opening ceremony of the summer cup football tournament to mark the 72nd Independence day celebration on August 15.
The main motto of the celebration was to remember the former leaders of All Popum Poma  Students Union (APPSU) which include former Cabinet Minister Late T C Teli, former Deputy Minister Late Ngurang Tazap, Late Tem Tatung, Late Techi Taangam, Late Techi Kako.
Bagang sais that communal harmony and brotherhood should foster through sports and emphasis the need of such games and sports in all border area which will unite people of both state in maintaining the law and order problem and exchange of cultural exchange among each others. He also appeal the youths to come forward and take part in state and nation development as it is the need of the hour.
All Nyishi Students Union (ANSU) Vice President Tana Susil Tara while attending the function as guest of honour lauded the student union for organising such an mega event and also for remembering the former students leaders which remind of us of our responsibility toward the senior and appeal to walk to the footprint of the leaders who show a good way to us for the development and prosperity of the area and state.
Watch Video 
All Papum Pare District Students Union (APPDSU) President Nabam Tado while speaks on maintaining youth force for development of games and sport, academic excellence  and development of education scenario of the district. He appeal all stakeholders to cooperate in improvement of academic scenario of state.
Among other All Popum POma Studenst Union President Tassar Levi, Games & Sports Secretary and event Chairman Ngurang Tache among other address the gathering.
Deputy Director, SBTC (Health department) Dr. Taba Khana, AAPSU Deputy Speaker Nepha Wangsa, APPDSU Leader Teli Pada, Teli Taning Kelvin, Gollo Kaya, former Panchayat leader Pane Matang, Tana Tad, Tacha Ranka and several other local leaders were present on the occasion.
The tournament which  kick start today shall continue and the final match will be played on 72nd independence day celebration at same venue. All total 18 teasm are taking part out of which 7 are from Assam.
The first match was played between Gohpur FC vrs Milonpur FC which was won by Gohpur FC by a margin of 12/1 goal.