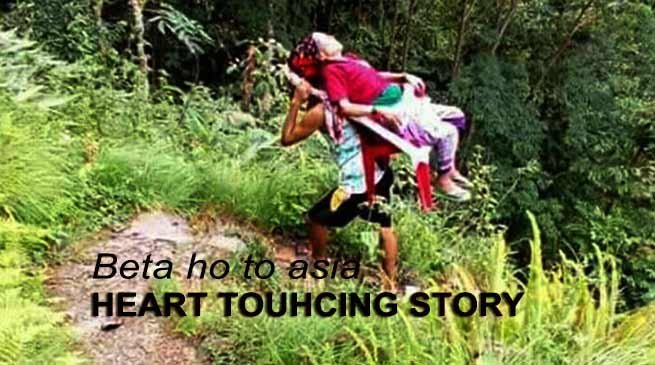 News Desk 
Few days back we had published  " the tale of paga village" which is so remote that it was finally connected by road 70 years after independence.  This heart touching story is from our neighbouring country, but this situation is very similar to our north eastern states where thousands of remote villages aren't  connected by road. This story also reflects the love and  affection between a mother and her son .
Read this heart touching story picked up from facebook time line and presented here, after reading this story you will also say that, Beta ho to aisa.
---
The name of this man is Shanam from a remote area of a neighbouring country. He lived with his mother, wife and three children. There was no road connectivity to his village. One day his mother fell ill and was unable to walk on her own. The nearest town was around 50 kms from his village. Since his mother was seriously ill and there was no hospital in his village. He decided to carry his 80 years old mom on his back to the hospital. It took him 2 days to reach the hospital. He was alone and no body was with him to carry the ailing mom in turn. After 2 days of tiresome journey on foot with mom on his back through the tough mountainous path, he finally reached hospital only to find that the only doctor of hospital was on an official visit to the district headquarter. The nurses were not able to provide treatment. He waited for the doctor for 2 days. When the doctor returned to the hospital, his mother had already passed away.
Read this also : Arunachal: The Tale of Paga Village, where the light of development has finally shined
Sad and heart broken, he carried the body of his mom back to the village to give a fitting funeral as per their tradition. After two days of gruelling journey, he reached his village. However, due to excess fatigue and many sleepiness night, he too passed away. The mom and son were cremated on the same day.
There are still many villages, which are not connected with roads. And we shout the hell out even if our internet goes off for few minutes. My heart goes to this son. Beta ho to aisa. And my heart pains to realize the fact that he left behind his wife, and three small children for her to look after. I think she should be supported in her children's upbringing and education.
When he was passing through the periphery of another village, one of the villager's son, who studied in the town and happened to visit his parents in village took the picture.