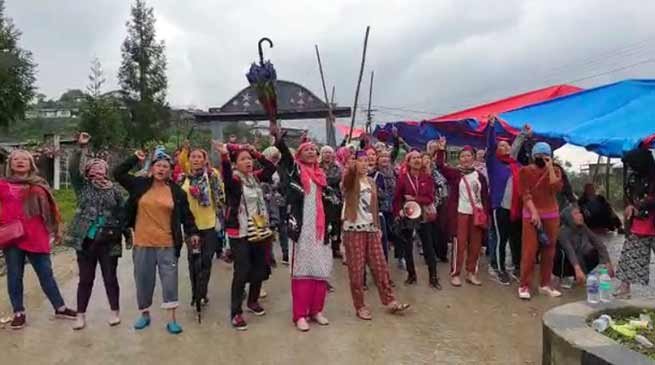 The protesters demanded immediate arrest of the culprit and suspension of SP Kurung Kumey for inordinate delay and lackadaisical attitude  in Bengia Tamang murder case. 
---
Koloriang / Itanagar 
By Manoj Singh
The Kurung Kumey district headquarter 'Koloriang' tensed, after a group of protesters mostly women ransack and vandalised the SP office this morning demanding immediate arrest of culprit behind the killing of Bengia Tamang, GB of Papu village near Taba Polling station on 25th April.
Sources in Koloriang informed that agitators were infuriated with the police over in action in arresting the culprit behind the shot dead of Goan Burah. The agitators demanded immediate arrest of the culprit and suspension of SP Kurung Kumey for inordinate delay and lackadaisical attitude of the SP Koloriang  in the case and other.
Later, the protesters went berserk after sloganeering against the Superintendent of Police.  "They broke into SP office and ransacked, office furniture, computers and racks etc" sources added.
Further protesters marched towards the Deputy Commissioner office and locked down main entrance gate from inside.  Earlier, the agitators were not allowing the employees to pass through the gate and later gave passage to Deputy Commissioner Santosh Kumar Rai and other office staffs for carrying official works, it informed.
When contacted the DC confirmed that protesters were demanding early arrest of culprit responsible for death of Goan Burah. DC Santosh Kumar Rai further maintained that grievances of victim relatives were patiently heard and he assured them to ensure early arrest of culprit.
Earlier on April 26 Bengia Welfare Society (BWS) in a representation to Deputy Commissioner Kurung Kumey district have demanded immediate arrest of culprit involved in the death of GB Late Bengia Tamang at Taba Village under Damin Circle in Kurung Kumey district in a poll related violence on April 25
 In a separate incident, the police sources disclosed that a bundle of gelatin sticks (explosive device) was recovered from the Helipad at Koloriang on Sunday morning.  The police sources stated that intention of planting explosive sticks is yet to be ascertained however, it appeared that planter are targeting the helicopters which are being engaged in transporting electronic voting machines (EVMs) from the re polled polling stations.
Watch Video 
Kurung Kumey district witnessed sporadic poll related violence ever since the election declared.  On Sunday, a Mahindra Xylo requisitioned for election duty was burnt down by miscreants between Kurung bridge point and Parsi Parlo road.
While informing over phone, Inspector General of Police (IGP) Election Sunil Garg said that PHQ is in constant touch with Kurung Kumey district administration and Koloring police. A DIG and senior police officers are camping at Koloriang and monitoring the situation. Referring to the demand of the women protesters there, Garg said that after registering the case we have constituted special team and the police team have been in search of the suspected accused at different hideout. We are hopeful that the accused is arrested soon as special team of police in lock out of the accused in several places. Garg informed.
He further said that PHQ have send additional force in Koloriang to contain any law and order problem. As of now the situation is under control. IGP added.