Arunachal
Arunachal: Doimukh Festival show cases our rich culture and tradition -Techi Kaso
ADVERTISEMENT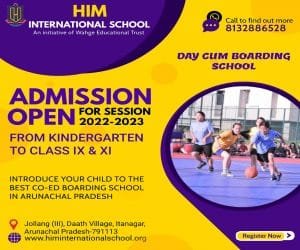 The Doimukh festival-2018 is show casing our rich culture and tradition said Itanagar MLA , Techi Kaso.
---
Doimukh
Itanagar MLA Techi Kaso appeal people to greet visitor and guest and give them a good hospitality so that the flow of tourist in state increase and the name of our state become famous across the globe.
Kaso was addressing a huge gathering on the inauguration of the 3rd Doimukh festival-2018  at Tana Hari Angling spot of in Emchi near the bank of river Dikrong here today evening.
Kaso said that  our rich traditional and cultural heritage need to be exposed for which we have to start a humble beginning from our home by way of teaching of our language, tradition, culture and good moral value  to our younger generation  and children  so that our good hospitality and behaviour  is known to the visitors as well and they reciprocate us in same way.
He assures support for the success of such festival which show case the different tribes and community at a platform where different cultural event as well as different local cuisine are served.
Department of Indigenous Affairs (DIA) Chairman Nabam Atum while addressing the function as guest of honour said that even if we are celebrating such cultural and youth festival we should equally promote our indigenous festival and our tradition and culture which are the symbol of our tribal identity.
The cultural night experienced several cultural extravaganza by different cultural troops of Doimukh Circle and papum pare district including dances by state renowned artist which thrilled the audience. The festival shall continue till December 2nd and every evening the visitors can enjoy the culture apart of traditional dishes of different tribes along with traditional sports and others.
Social workers Nabam Vivek, businessmen Taba Rama, senior citizens, local youth and others were present on the occasion.