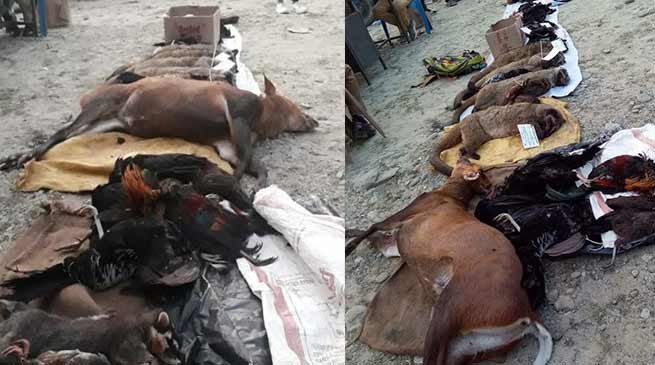 During a search operation by Forest officials in Doimukh are, a huge catch of wildlife meat right from small bird to a big deer was seized.
---
Doimukh
The Forest department official of Banderdewa Forest Division today seized a huge catch of wildlife meat in Doimukh township at the Midpu check post.
Confirming the catch Banderdewa DFO Tasso Sera said that it is a matter of great concern that even inspite of several awareness programme being conducted right from School, village and in offices there have been report of killing wild animals which would affect the food chain and also affect the environment as well.
He said that the team of official of the forest have been deployed  to check all such illegal activities and they are also creating awareness programme in every nock and corner of urban and rural areas on forest conservation and protection of wild life and ecological balance.
To stop the killing as well as illegal hunting we have deployed several officers and forest guard as well but it would only be successful if the general masses cooperate and support. Sera said.
He said that the day long search was done on the highway in Doimukh wherein a huge catch right from small bird to a big deer  was seized and subsequently disposed off on the direction of the Magistrate.
He however warned all those persons for killing and illegal hunting of wild animals to face legal action. Sera added.
This daily tried to contact to get detail of arrest and legal action from Papum Pare district Superintendent of Police Incharge Jimmy Chiram but in vain.
UPDATE: 

After publishing this news , the SP incharge of Papumpare Jimmy Chiram has contacted Arunachal24   and informed that 'it was the outcome of multiple raid conducted by forest officials of Banderdewa division. Huge catch of wildlife meat  was seized and disposed as per procedure. Seven person has been arrested so far and a case also been registered under wildlife Act'.