North East
BSF Seizes Cattle Herd & Huge Bundles of Bidi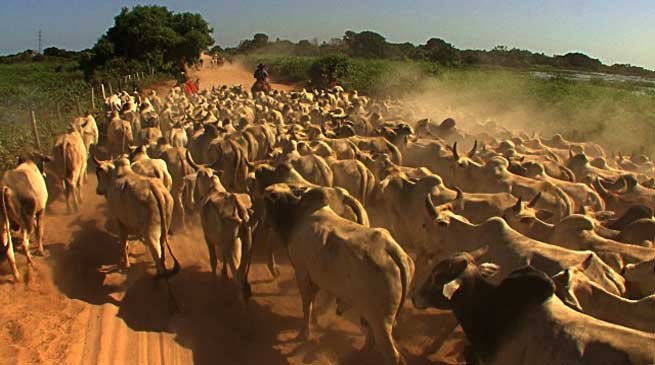 Shillong
Keeping strict vigil at the borders of Meghalaya with Bangladesh, BSF troops once again foiled the attempt of cattle smuggling to Bangladesh and Sized not Only Cattle Herd, number of Huge Bundles of Bidi also in the area of Balughat, South West Garo Hills. A BSF Special ambush party while dominating the area observed a suspicious movement of few persons along with cattle. They immediately cordoned the area however the suspected miscreants fled towards Bangladesh taking advantage of dense forest & thick vegetation. A thorough search was carried out. A large number of cattle i.e., 23 cattle seized from the spot. Recently smugglers have increased their activity in the bordering areas of SWGH along the unfenced patches of Indo-Bangladesh border in Meghalaya. But alert BSF troops keep constant vigil and conduct special operation in these areas to check menace of smuggling of cattle and other contraband items.
In other instances, the troops of BSF deployed at Hangaria of East Jaintia Hills Distt, on a tip off seized more than 10 thousands bundles of Bidi from the bordering area. The special Ambush party of BSF had laid a trap while some smugglers along with seized items were proceeding towards Bangladesh through a thickly vegetated area. The BSF party exercised due restraint and challenged the smugglers to stop but they fled towards Bangladesh. A thorough search was carried out. A huge number of bundles of bidi were seized from the Indo-Bangladesh border.        Consumption of bidi/tobacco items in Bangladesh is growing higher than Indian bordering areas. A number of licence holder of such items in Indian bordering villages are dumping bidi/tobacco items excess than the requirement for local consumption.
Though the consumers of bidi are very less in the Indian side as maximum smokers prefer cigarette, still the transportation of such huge quantity of bidi always raises question  over the intention of the persons involved in this business even after having genuine documents sometimes.