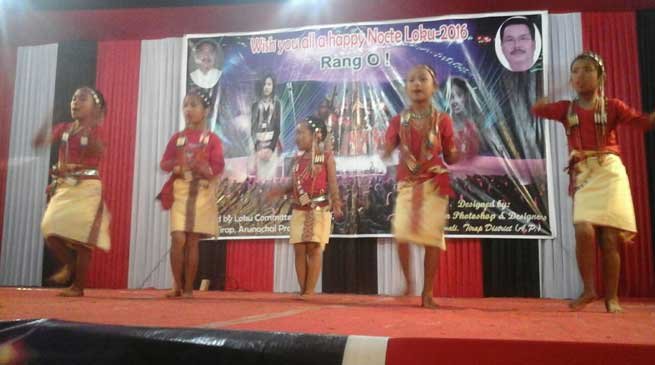 Deomali 
By Lomhom Tangha
Musical band from Tinsukia, Assam along with local artist rocks the Deomali town on the occasion of Chalo Loku Festival Celebration this evening.
The Chalo Loku, a pre harvest festival of the Nocte were celebrated at Deomali general ground today with much fanfare and gaeity. Deputy Chief Minister of Arunachal will graced the main occasion on 25th November 2016 as chief guest.
The Chalo Loku General secretary Thatwang Boi had informed that the  Minister Wangki Lowang has assisted the entire Chalo Loku committee in all possible way to make the event successful and besides that  his electorates are much more enthusiasm for getting a berth of minister after having elected four times in a row. This is the main reason of celebrating the Chalo Loku with more vigour this time by the local denizens with much happiness.
Therefore, the people of Deomali are very much obliged and thankful to the chief minister Pema Khandu for having delegated a responsible portfolios like DOTCL, Agriculture, Trade and commerce to their leader Wangki Lowang after 17 years on the coveted throne of 54th Namsang ST Assembly constituency.
The Chalo Loku Committee president Wangphoon Lowang and General Secretary Thatwang Boi had expressed their pleasure to thanks Chief Minister Pema Khanduji for having acknowledged the event by offering a financial blessing as well as psychological encouragement.
The Chalo Loku committee has extend their gratitude to arunachal24.in, a news portal for covering the unprecedented event at Deomali. Through the arunachal24.in the event goes to the world wide and.  Thousand of people have like this event in social media through the arunachal24.in.