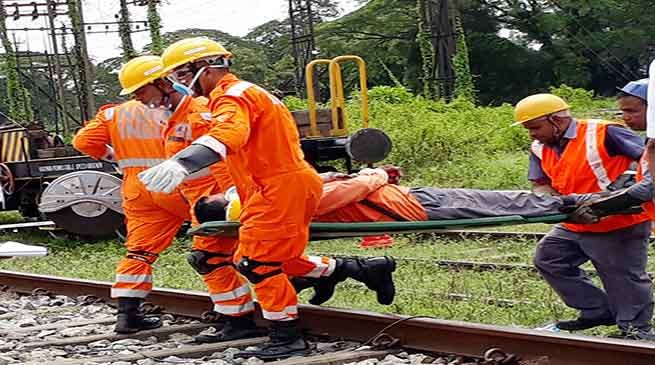 Guwahati
A joint mock drill exercise by NF Railway and NDRF (1st BN) was conducted at New Bongaigaon Yard Siding under Rangiya Division of N.F.Railway on 26th July, 2017 to check the readiness of men and materials in the eventuality of any train accident. This type of exercise is also important to check equipment performance, time management and efficiency of rescue team members.
At New Bongaigaon Yard the mock drill exercise related to operation of 140 ton crane was conducted. Accident Relief Medical Equipment (ARME) Train and Accident Relief Train (ART) were put into service after blowing of siren. The readinesses of officials from various departments like Safety, Mechanical, Telecom, Operating, Medical Engineering, Electrical, Commercial, Security etc. were monitored during the mock drill exercise. Helpline numbers were also activated.
The rescue operation to the injured passengers was done by NDRF team from the derailed coach.  Two passengers with grievous injury and eleven passengers with minor injury were entrapped inside a coach and those were rescued by NDRF team and sent to Hospital for further treatment during the mock drill.