Itanagar
Arunachal: DNGC Celebrates 43rd Annual College Day 2023
The celebration started with a floral tribute to the statue of Late Dera Natung by the dignitaries and students.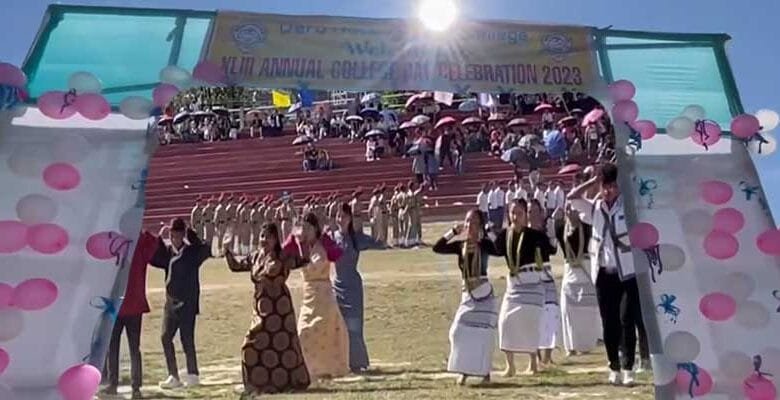 ITANAGAR-  Dera Natung Government College ( DNGC ) , Itanagar celebrated its 43rd Annual College Day today with great pomp and gaiety. The celebration started with a floral tribute to the statue of Late Dera Natung by the dignitaries and students.
Taba Tedir, Minister Education & Cultural Affairs and the Department of Indigenous Affairs, Govt. Of Arunachal Pradesh and Biyuram Wahge, MLA, Pakke Kessang-cum-State BJP President, Arunachal Pradesh graced the occasion as Chief Guest and Guest of Honour respectively.
Also Read- ' Space on Wheels ' reaches DNGC
The dignitaries were greeted with a welcome song by the students followed by flag hoisting ceremony which features March-Past by NCC, NSS and students of various departments of the college with band-party from VKV Chimpu as special invitee to add more colour to the celebration.
Taba Tedir, while speaking as the Chief Guest lauded the achievements of Arunachalee youth in the national and international arena in the fields of Games & Sports, athletics etc. He added that education has seen a tremendous improvement in the state in the recent past where state has many institutes of higher education including state university of its own.
Further, he commemorated the day as Janjatiya Gaurav Diwas and recalled the participation of tribals of the nation in the freedom movement especially tribal leaders like Birsa Munda and others. He praised the effort of Chief Minister Shri Pema Khandu in constituting a committee under the Deputy Chief Minister Shri Chowna Mein along with historians, researchers from RGU to find out the unsung heroes from the state.
While lauding the organizing committee for putting the theme 'Go Green for a Sustainable Tomorrow' for this celebration, he implored everyone to plant trees and promised to provide 4800 plants to be planted in the college campus in collaboration with department of forest.
Also Read- NSS unit of DNGC organizes mega blood donation camp
He exhorted everyone to fight against the drug menace which has become a great threat to the state. He reiterated on the state government's promise to give opportunities to the talented students. He asked students to be a good person, one thinks for pan Arunachal and for the welfare of all.
Tedir declared the 43rd Annual College Day Celebration 2023 open and ended his speech after lighting the ceremonial Olympic Torch.
While speaking as a Guest of Honour, Biyuram Wahge based principally on old adage 'knowledge is power' calling it an investment whose dividend will never end. He advised students to treasure the knowledge provided by the teachers. He asked students to respect the sacrifices made by parent to support their study in the premier institute like Dera Natung Govt. College, Itanagar. 
Earlier While delivering the welcome speech, Dr. M. Q. Khan extends his gratitude to the present government of Pema Khandu for committing to the infrastructural development of the college. He listed out numbers of on-going infrastructural projects including administrative block, academic block under RUSA, 100-bedded girls' hostel, separate building for Anthropology department, four badminton courts, two judo karate courts, one rostrum, 1 gallery, 2 cricket net-practice pitch, 50 steel street furniture in premises of the college, one huge children park under Smart City Corporation Project of which many are completed and operational and few are on the verge of completion. Furthermore, one 300-bedded boys' hostel has also been sanctioned recently.
He lauded the achievement made by the students in the fields of games and sports, NCC & NSS. However, he advised students to balance the academic pursuits and other co-curricular activities to become successful in life. He motivated the students to give priority to the career, discipline and positivity.
He further informed the gathering that to compete in literary, cultural and games & sports during this celebration, the students have been divided into four houses viz. Khyari Satam House, Kelingon House, Gorichen House and Piji House named after important peaks of Arunachal Pradesh; and the theme of the Annual College Week Celebration 2023 is Go Green for a Sustainable Tomorrow.
Also Read- DNGC NCC organises Statue Cleaning Programme
Mr. Tado Techi Tara, General Secretary, DNGCSU submitted two-point memorandum to the Chief Guest Taba Tedir which are construction of new academic block for Political Science department and renovation of old academic block from room no. 1 to 28. He further submitted one-point memorandum to Guest of Honour, Shri Biyumram Wahge which was procurement of 790 pairs of Godrej Scholar Classroom Furniture (bench-cum-desk).
Tatar Kipa, former minister, Education, Govt. of Arunachal Pradesh accompanied them as Special Invitee along with host of officers and officials from Directorate of Higher and Technical Education, Faculties and Students of Dera Natung Govt. College, Itanagar.
The inaugural programme ended with vote of thanks given by Dr. Taro Sindik, Co-Advisor, DNGCSU.
Four houses will compete in cultural, literary and games & sports competition for next three days and 43rd Annual College Day Celebration 2023 shall see its culmination on 18th November 2023 with Valedictory Function.