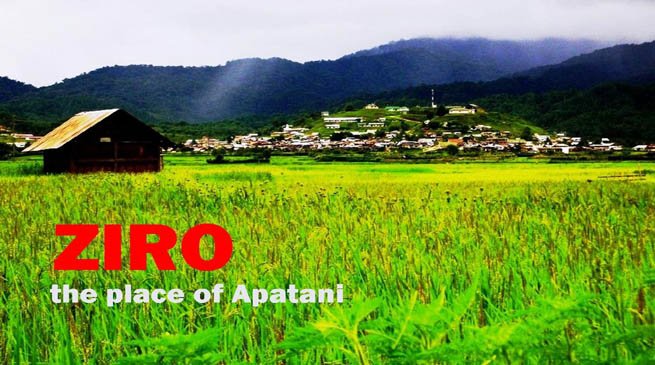 ZIRO, the place of Aapatani Tribe in Arunachal Pradesh Showing the perfect Harmony of Man and Nature. 
Ziro is a small picturesque valley tucked away in the lower Subansiri district of Arunachal Pradesh. This little valley and its people have much to offer to those seeking beautiful unexplored regions in our country and a culture to learn a lot from.
Ziro is home to the tribal group called the Apatanis of Arunachal Pradseh which is one amongst the very few tribes in the world that worship nature (Sun & Moon). Apatanis are famous for their unique methods of sustainable farming and social forestry. In April 2014, Apatani Cultural Landscape has also been added to the tentative list of UNESCO World Heritage Sites for "extremely high productivity" and "unique" ways of preserving ecology.
The Apatanis are primarily into farming. They are famous for the sustainable and efficient methods that they have been following to cultivate rice. The farm lands are built on flat lands and therefore, wet rice cultivation is followed along with pisci culture. Even the elevated partition bunds between rice plots are utilised to grow millets.
Their farms are uniquely marked with efficient channels and canals for irrigation purposes. There are no farm animals or machines used; instead, the focus is on using nature friendly and sustainable methods only.
They have also successfully been able to conserve the forests around the valley which serve as water sheds for streamlets flowing down into the fields, thereby, helping them in the irrigation system. There is too much to learn from them on how they have used traditional methods to attain what the modern machines and systems have been unable to!
They live in very simple bamboo huts perched on top of vertical wooden stilts forming dense settlements called Bastis. Almost all houses in Hong Basti were traditional.
The centre of the house, not only serves as a kitchen where food is cooked over wood fire, but also as a gathering point to talk and discuss matters. Fire is lit right in the centre, around which family members and visitors sit to chat, watch TV, play music or simply spend time with each other.
Another unique feature of Apatanis and probably most photographed by tourists are women with facial tattoos and nose plugs. There is no documented reason as to why the tradition started, but that this tradition is no longer followed by the younger generation. Even many women from older generations have opted to take off their nose plugs.
How to Reach Ziro-
Perched atop 5745 metres high up, above the sea-level Ziro is Arunachal Pradesh's best kept secret destination! It is known for its pine covered hilly slopes lowering towards the ground, its verdant forests, paddy-cum-fish culture and active cultural life. Best time to visit this gem of a place is during the months of spring. Here is how you reach Ziro.
By Air: Nearest airport is Tezpur, and Lakhimpr  in Assam
By Rail: Nearest railway station is North Lakhimpur in Assam. You have to take Arunachal Express to reach this station from New Bongaigaon which is around 180 km north west of Guwahati
By Road: Direct private buses are available from Itanagar and North Lakhimpur and Guwahati to Ziro.
Where to stay–   Circuit house, Tourist Bungalow, Hotels are there . you can stay as per your choice.
ILP-   need inner line permit which you can get from Tourist or resident commissioner office from Guwahati, Tezpur, Lakhimpur , Itanagar  and Arunachal house in New Delhi and Mumbai