Arunachal
Zero Tolerance Towards Health and Education- Pema Khandu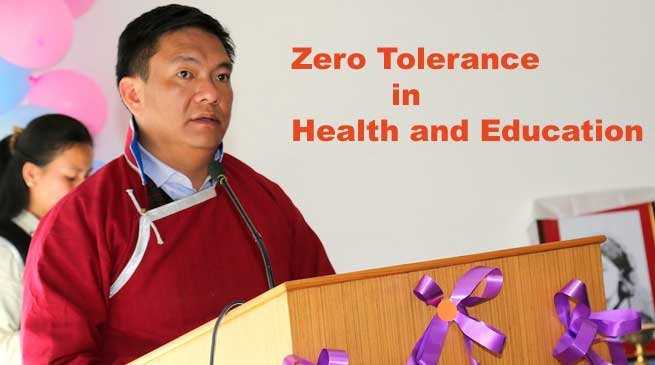 Tawang
 "Zero tolerance towards health and education has been every government's catchphrase. But it will be possible only when all the doctors, teachers and health workers give their best to their service," urged  Chief Minister Pema Khandu and said that to give 100% effort, a secure attachment and bonding must be developed with those who seek our service.
Doctors, health workers and Teachers have been urged to work complicatedly and whole-heartedly as the state government gears up towards adopting zero tolerance towards health and education sector.  Khandu made this clarion call during a speech here at district hospital, after his formal inauguration of in-patient department building and the Khando Drowa Sangmo Nursing School.
 "Without feelings for our work, we cannot render true service," he said and added that healthcare and education is the most noble job in service of humanity.
 As step towards priority to health sector, the Chief Minister assured that all local grievances of the newly opened nursing school and the district hospital will be met and said that all submissions received on the matter will be studied and addressed promptly.
 On staff shortages for nursing schools, Khandu said that government will first work out with rationalization of staff postings, as majority of them are crowded in big towns. He asked the officials and staffs of state government to be ready to serve in any corner of the state reminding that we all are 'public servants'.
He also earlier inaugurated the new Jan Aushadhi store in the district hospital and called upon the hospital officials to prescribe only the generic medicines that cost a fraction of the branded drugs. Khandu announced to contribute Rs 1 lakh from his personal expenses for procurement of generic medicines for the hospital.
The Chief Minister in his visit to nursing school inspected the kitchen, dining room, classrooms and computer lab.
Earlier in his address, Health Minister Jomde Kena informed that state has huge shortage of female health workers and the number of ANM and GNM graduates being produced from the state also will fail to meet up the requirement.
He therefore urged the students those interested to pursue healthcare courses to enroll themselves in nursing schools, which are being opened across the state and said "nursing school graduates will never be unemployed".
Though nursing school is a one-time grant from the centre, the state health ministry will fully fund all the recurring expenses for its smooth functioning, assured Kena.
Earlier, the Chief Minister presented an award of excellence to Miss Lama Deki for topping in her ANM class for the academic session 2015-16. The award is sponsored by ICICI bank, Tawang. The CM also lighted a lamp in memory of Florence Nightingale.
The student of nursing school representing various districts from Arunachal presented a group song, followed by a school anthem.
Jt Director of Medical Education Dr Ritu Doye delivered the welcome speech. MLA Tawang Tsering Tashi, Hydropower Development Corporation Chairman Tungri Effa, DMO Wangdi Lama and other dignitaries were also present on the occasion.